Zone 3 official sponsor of the V Half Triathlon Pamplona Iruña
The Half Triathlon Pamplona Iruña has beaten for this 2019 all the records of participation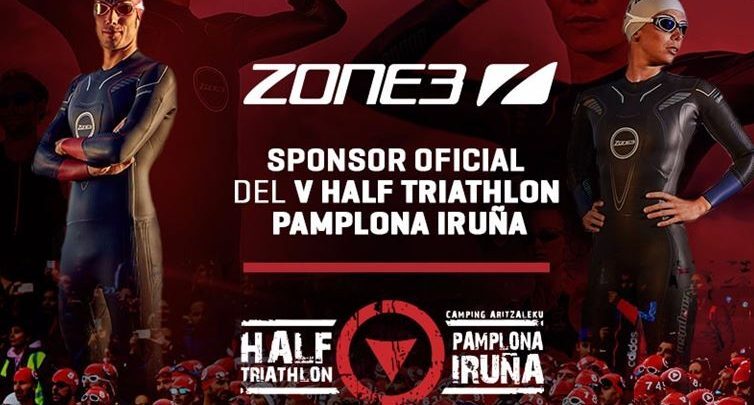 The award-winning British brand of wetsuits and accessories for swimming, running and triathlon Zone3 has renewed the sponsorship agreement with the Half Triathlon Pamplona Iruña so it becomes the benchmark in the swimming sector as well as an important support for the event and its triathletes.
Through this renovation strengthen ties between two projects emerging in their respective sectors. While Zone3 shows a progression in recognition and sales in the European market, the Half Triathlon Pamplona Iruña has beaten for this 2019 all the records of participation, a detail that Benjamín Gil and Óscar Aragú, managers of Zone3 in Spain, have valued very positively: «Last year we were already supporting this important event and after seeing how the city turns out, the inhabitants of Pamplona, ​​volunteers and organization, we have not hesitated for a moment is to join the Half Triathlon Pamplona Iruña 2019. For us it is an important opportunity to share the values ​​that the triathletes see in this test and to associate us with a spectacular human group«
Gil and Aragú have also valued the international involvement of the brand, who sees in the Half Triathlon Pamplona Iruña a good way to publicize its products, especially in a year 2019 in which its great proposals for wetsuits present important improvements.
«For our event, and we believe that for our triathletes, associating with first class brands gives us an important projection as well as a support worthy of thanks in a young project like ours.»Declared Gorka Blasco, head of marketing and communications at Half Triathlon Pamplona Iruña.
Through this agreement, Zone3 joins the celebrations of the fifth anniversary and will be one more year the benchmark in the swimming sector.
In addition, the brand will offer exclusive discounts throughout the season to the triathletes registered for the event that will be held next 18 May 2019 in the capital Navarra.
Further information: https://zone3.es/