Zuriñe gets his first podium of the world cup in Korea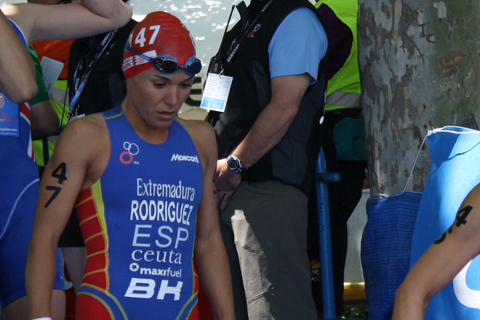 This morning at 9:00 local time the penultimate last World Cup of 2011 was played in Tongyeong (Korea) where the Spanish, Zuriñe Rodríguez, has achieved her first podium in a World Cup finishing third.
The French Jessica Harisson, after 13 years of her first participation in the World Cups and with her recent title of Champion of France, has taken first place with a total time of 02:00:41, followed by the Irish Aileen Morisson who invested 02:01:09 and in third position Zuriñe Rodriguez with a time at the finish line of 02:01:18.
The Spanish who comes from competing last weekend in Huatulco (Mexico), where Marina Damlaimcourt He got the third position, he has managed to make one of his best races of the year, proof of this is the swimming segment carried out, the fastest in 2011 swimming 1500 meters in 00:18:27.
Zuriñe, who left the last of the leading group in the second transition, managed to reach the leading group in the first kilometers of the foot race, managing to finish in a deserved third position in the final sprint "For both me and my coach And the people who live with me on a daily basis, this is an authentic prize, since the London race I have trained a lot, taking advantage of each training, resting more than ever and just thinking about the Olympic Games, which today is my objective. Swimming has been the fastest of the whole year, in which I have suffered the most, but thinking about every meter that the race was there, on a bike I knew that I had been very touched from last week and did not want to suffer excessively, a bad Second transition has made me go out very angry to run, but also the last one of the group. In the first kilometers of the foot race I have placed 7 with a group of 4 in front very close to the one that I caught before the first lap (2,5 km), I positioned myself third, with the second and fourth to the same distance. At the end Third. My first podium in the World Cup "
Once the race ended, Zuriñe declared to the media "I feel very happy, but without letting my guard down, now Guatape plays in three weeks at 2000 meters of altitude and then a break to continue fighting for the longed-for Olympic Square"
TOP 10 of the Test:
| | | | | |
| --- | --- | --- | --- | --- |
| 1 | Harrison | Jessica | FRA | 02:00:41 |
| 2 | Morrison | Aileen | IRL | 02:01:09 |
| 3 | Rodriguez | Zurine | ESP | 02:01:18 |
| 4 | Peon | Carole | FRA | 02:01:29 |
| 5 | Adachi | Mariko | JPN | 02:01:48 |
| 6 | Vodickova | Radka | CZE | 02:01:54 |
| 7 | Muller | Kathrin | GER | 02:02:06 |
| 8 | Niwata | Kiyomi | JPN | 02:02:10 |
| 9 | Abysova | Irina | RUSSIAN | 02:02:17 |
| 10 | Vanek | Margit | HUN | 02:02:32 |
More information and results: http://www.triathlon.org/results/results/2011_tongyeong_itu_triathlon_world_cup/6002/