Zuriñe climbs to the podium and three Spaniards in the top 10 of the Guatape World Cup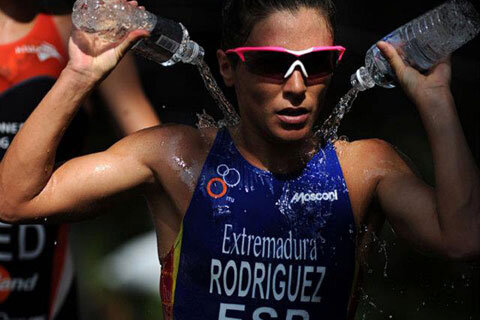 The performance of Spain in the penultimate Triathlon World Cup 2011 held today in Guatape can be classified as excellent, where Zuriñe Rodriguez, 01:04:37, returned to the podium after reaching the finish line in third position. The gold went to the French Carole Peron, with a total time of 01:04:11 followed by the Japanese Tomoko Sakimoto, 01:04:30
Marina Damlaincourt achieved 19th place. In the men's category and just one step away from getting on the podium, Jose Miguel Pérez once again demonstrated his excellent form, reaching the finish line in fourth position. Iván Raña and Miguel Fidalgo, did not want to be left behind, and entered the 7th and 8th place respectively. An exciting race in which the top 10 finishers cleared the finish line in the 29-second stage. Ramón Ejeda 15.
Photo: FETRI
In the men's category, Etienne Diemunsch was proclaimed champion with a total time of 00:57:15, once again showing "being thoroughbred" after an excellent season in which we could enjoy watching him compete in Spain, in the Duathlon World Championship in Gijón in the SUB23 category, where he was proclaimed World Champion of this modality, in addition to the second place he obtained in July in the Premium Triathlon European Cup in Banyoles. Triathlete with a great projection, who must not lose sight of the Olympic Games in London.
Second place for the Mexican Crisanto Grajales, and third place again for France, Tony Moulai achieved bronze in this test.
Despite the fact that the competition was held over a Sprint distance due to a major storm that occurred the night before the event, which produced landslides that affected the running segment and left no alternative but to adapt In the Olympic distance sprint distance test, the Spanish have managed to maintain their leadership positions, managing to improve their scores in order to achieve their place in the London 2012 Olympic Games.