Healthy and fast cooking for athletes: Air fryers without oil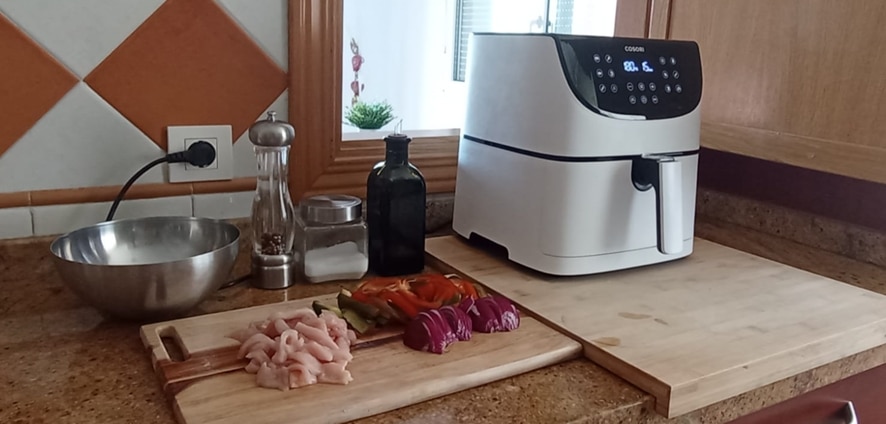 One of the things that most concern athletes is their diet.
It is very important to maintain a balanced diet so that it allows them to train and recover with the maximum guarantees in order to continue contributing the daily sessions to improve their performance.
That's why they always look for healthy eating options and if possible quickly to take advantage of your rest time.
It is interesting for them oil free air fryers. These devices have gained popularity in recent years, as they allow cook foods low in fat and calories in a practical and fast way.
Cooking with an air fryer is a healthy alternative to frying conventional since in addition to being an easy and practical tool they can quickly prepare foods that are low in fat and calories, but without losing flavor.
In this article we want to introduce you to the advantages of using this appliance and why it is worth investing in one to lead a healthier lifestyle.
This is how an air fryer works
The air fryer allows you to cook fried foods in hot air simulating a convection oven.
This makes frying so much healthier compared to those made by conventional oil fryers, since the intake of fats and therefore calories is significantly reduced.
To give you an idea, it can be cooked with 85% less fat than traditional fried foods.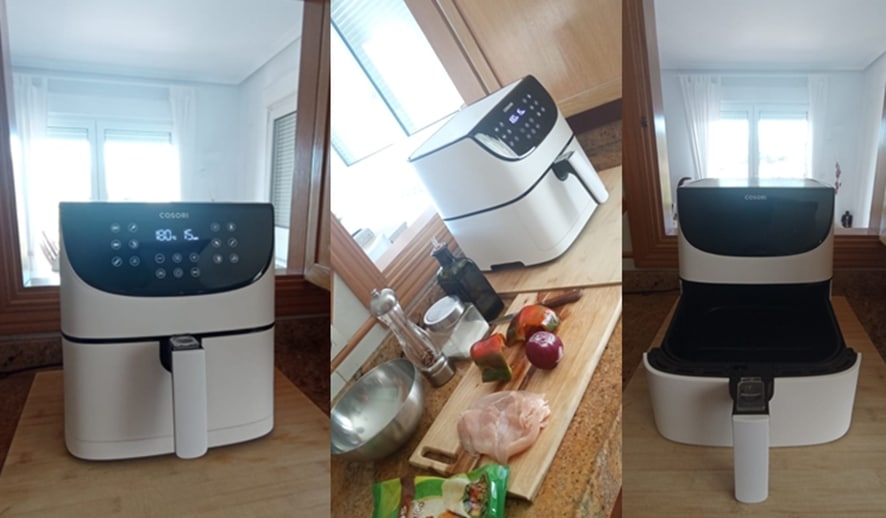 When cooking with hot air distributes heat evenly which guarantees proper cooking of the food to be cooked.
For this only you will have to use a little oil, for example, with a spray or spray on food. With this type of utensils, much less oil is used when cooking than in a conventional fryer, making all recipes much healthier.
€119,00
139,99€
In stock
1 New From €119,00
31 Used From 81,40 €

Amazon.com
free shipping
Last update: 29 September, 2023 11: 29
Next, we will tell you about some of the benefits of these small appliances.
Comfort
Air fryers are compact and easy-to-use appliances, which makes them ideal for all kinds of people and particularly for athletes with little time to cook.
Using them is so simple that it is only necessary put the food in the basket of the fryer and adjust the temperature and cooking time, of course you are following the recipes that usually come in the instructions.
There are some models that come with predefined programs to make for example French fries, chicken, salmon, etc. which makes the cooking process much easier.
It is the example of the COSORI air fryer that we have used to find out what it can do for athletes.
Practical and fast
Cooking with air fryers is fast and efficient, since they use hot air to cook food evenly and make food quickly.
Also, since they have a timer, you can cook while you shower or do other things like stretching after training.
Easy to clean
Since air fryers have removable components and most are dishwasher safe, makes it much easier to clean after each use, since you only have to wash the container.
We recommend that you wash it manually once it is cold with soap and water.
Reduce odors in your home
By using hot air instead of oil, air fryers minimize typical frying odors at home, maintaining a more pleasant environment, which is always appreciated.
healthier lifestyle
This type of fryers allow prepare fried foods with less fat and calories, which is beneficial to health.
This will allow you to enjoy some of those "party" foods that are usually high in calories, but without ingesting excess fat and throwing away all the training you've done to date.
They encourage the consumption of vegetables
Since air fryers are easy to use, they will surely make it easier for you to add more vegetables to your diet.
Cooking them in various ways is easy, find a recipe, prepare the vegetables, put them in the fryer and set the cooking time.
As you well know, vegetables are essential in the diet of any athlete, since they provide vitamins, minerals and fiber necessary for optimal physical performance and good health in general.
Is it worth buying an air fryer?
Investing in an air fryer can be a excellent option for those looking to wear a style of healthier life and enjoy tasty and nutritious meals.
These appliances offer multiple advantages, such as reduced fat and calories in food, the ease of use and the ability to cook a wide variety of recipes.
Furthermore, being a healthier alternative to conventional frying, contributes to maintaining a balanced diet, especially for athletes who require an adequate diet for their physical performance.
How to get the most out of your fryer without oil?
To get the most out of your air fryer, it's important to follow a few tips and tricks:
1. Do not overload the fryer basket: Leaves enough space for hot air to circulate and cook food evenly.
2. Make sure you use the right accessories to obtain the best recipes and not damage the fryer.
Experiment with different times and temperatures cooking to find the perfect setting for each recipe. There are a large number of books and recipes available on the Internet.
Ready healthy recipes that fit your nutritional needs and your personal preferences. Innovate and cook tasty recipes with much less calories than if you made them with fried foods.
They help you save electricity
air fryers consume less energy than a conventional oven, which can help you reduce your electricity bills and be more environmentally friendly.
Why get an air fryer if you are an athlete?
These are some of the main reasons
Healthier food: Less fat and calories compared to traditional frying.
fast and efficient: Cook food in less time.
Easy to use and clean: Removable and dishwasher-safe components.
Versatility: Suitable for a wide variety of recipes and foods.
Top Featured Air Fryers
There are several brands in the oil fryer market, but without a doubt we bet on a brand with a lot of baggage such as cosori.
Cosori has many models on the market such as the model CP158.
It has a Capacity of 5,5 liters that can make meals for up to 5 people and more than 100 recipes can be made with it.
Also has 11 programs, LED touch screen, nonstick basket, timer, 1700W, Color Black.
Thanks to your (360º air circulation It heats up quickly and cuts down on any meal prep time.
One thing that we really liked is that the machine alerts you when you have to shake the food that is being cooked.
You have to keep in mind that each model has its own characteristics and specifications, so it is important to research and compare before making a purchase.
€119,00
139,99€
In stock
1 New From €119,00
31 Used From 81,40 €

Amazon.com
free shipping
Last update: 29 September, 2023 11: 29
Some easy and healthy recipes for athletes
"Fried" style chicken: Bread chicken breast pieces with whole wheat flour, egg, and breadcrumbs, and cook in the air fryer until golden brown and cooked on the inside.
Chips: Cut potatoes into sticks, season them with your favorite spices and cook them in the air fryer until crisp.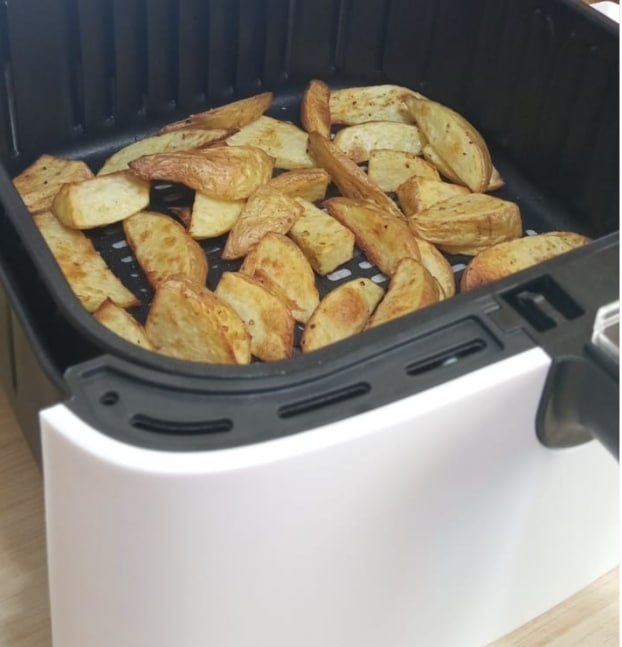 Roasted vegetables: Toss your favorite vegetables with a little oil and spices, and cook them in the air fryer until tender and lightly browned.
Meatballs: Make meatballs from lean meat or turkey, and cook them in the air fryer until cooked through and golden brown.
Air fryers offer a healthy and convenient alternative to enjoying low-fat, low-calorie fried foods.
They are ideal for athletes looking to maintain a balanced diet and complement their active lifestyle.
If you are considering purchasing an air fryer, do not hesitate to research and compare the different models available to find the option that best suits your needs.