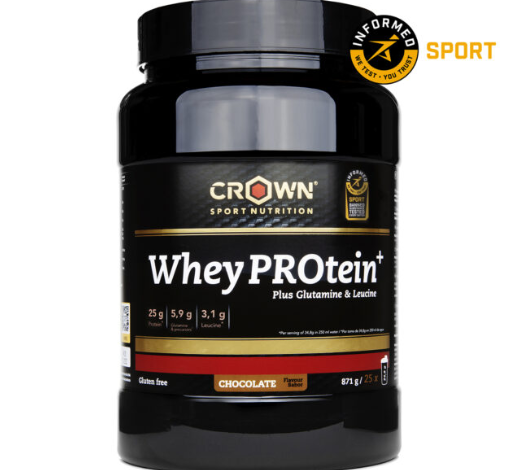 From Crown Sport Nutrition continue to offer their customers products with added value that differ from the rest, so the new Whey PROtein + It is unique and different from the rest whey proteins on the market.
This is due to is Informed Sport anti-doping certified, being totally safe for elite athletes.
Also, because L-Leucine added in sufficient quantity to ensure we reach at least the 3.000 mg / dose recommended by science for optimize muscle recovery processes.
They have also added added L-Glutamine, because the proportion of this amino acid is lower in whey and higher in the other protein fraction of milk, casein.
With this we not only complement the aminogram, but also give the product a greater effectiveness against muscle catabolism and a possible improvement in the functioning of the immune system.
Designed for all athletes
Designed for all athletes, both strength and endurance, elite athletes and in general for all people who lead a healthy lifestyle.
Whey PROtein + It is pure concentrate of whey protein of the highest quality, with the Antidoping certification by Informed-Sport and with a magnificent quality / price ratio.
-25 g of proteins of high biological value per intake
-3,1 g Leucine per dose
-More than 2 g of Glutamine added per dose
-Immediate solubility, easy absorption and delicious flavor
Weight and services: 871 g / 25 services
Price: € 29,99
DISCOUNT OF 25% AND FREE SHIPPING FOR ALL PRODUCTS WITH THE CODE: xHouse