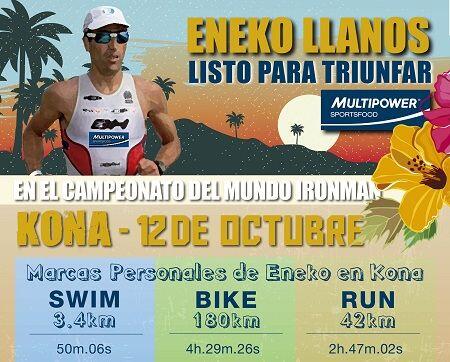 Less than 10 days left for the grand finale of KONA Eneko Llanos, is one of the main favorites to take victory
This season is being full for the Basque, where he has risen to the drawer in most international events and where he has imposed himself in the sector on foot with great authority over his rivals. This has earned him to take victory in the IM of Melbourne and the Frankfurt European Championship, last July. In Kona, if it is not the main favorite, it is undoubtedly the rival to beat. Everything will be decided on a single letter and the emotion is served.
In preparation for these last months in Boulder, United States, Eneko Llanos He has dedicated a bit of his time to do a brief interview related to his day to day, his training and his diet.
· What do you eat during your workouts and in preparation for a race?
Generally I do not usually change my diet the days before a race, if not it is usually quite similar to my day to day, when I'm in season and training. I like to eat the same and I simply increase the carbohydrate intake the week before and try to hydrate myself more to get to the test with the full tanks.
I am vegetarian, so that my diet is based on many vegetables, legumes, salads, along with cereals such as oats, rice, bread and nuts. Almond milk is also common. Punctually, as eggs and cow's milk in order to ingest more protein.
· Is it a problem to be a vegetarian for your performance or planning?
The truth is that no, since I am a vegetarian for more than 18 years, so I am more than accustomed to it. Whenever I can cook myself, I have no problem because I know what I need and what I feel good about. It only becomes complicated when you travel, where it is difficult to be able to nourish how you would like.
· What is your favorite food before the race and after?
Before the race, what I like the most is taking oatmeal with nuts, sliced ​​banana and almond milk. After ... I love pizza and a good cold beer!
· What Multipower products will you use in Kona and how do you distribute them during the race?
The previous days I take several cans of Isodrink and Recharge, in order to get the most hydrated to the test. I also take a magnesium every day counting from Wednesday; This assures me to arrive without loaded legs and avoid possible ramps.
The day of the race I will take IsoDrink Good morning, after a full lunch of oatmeal. Just before departure, I like to take a vial of guarana that helps me to be more active in the swimming sector. During the bike segment, in addition to carrying
IsotonicProtein +, with protein (it prevents me from loading my muscles), in my drums, I take the jelly jelly, Multicarbo Geles y Multicarbo Boost +, which I also use in the sector on foot because it is liquid and it happens very well. Approximately I take 2 gels / jellies per hour, both cycling and running.
Another way of thinking about it is to try to put at least 1 gram of carbohydrate per hour per kilo of weight (for a weight of 70kg, 70 gr per hour) and if you can a little more better. Dissolve all the gels in a drum with water to take it on the bike and give him drinks is a good option. In the race on foot, I reduce the amount, but as I said, there liquid gels like MutlicarboBoost or Jelly Jelly, are my allies, since they do not require water to be digested.
After finishing the race, I immediately take the recuperator Recharge Drink, along with a couple of magnesium vials and 50% Protein bars that help me avoid muscle catabolism and recover better and sooner.
· What are the main tips for training an Ironman?
Patience and perseverance are the key factors. It is very important to have a good training plan and calendar, as well as to take into account functional training and plan well the season according to this objective. That way you respect what you play at each moment and you learn that you can not compete every weekend or do whatever you want. You have to follow a planning.
· How many hours do you usually dedicate to training each week?
I train around 25 hours per week. Every day is different. Sometimes I do 3 sessions, others just one. Normally, every morning I start swimming, at noon I ride a bike and if I run, I do it in the afternoon. In total, I usually do 20-25km from Swim; 380-400km of Bike and 85-90km of Running.
· Do you do gym session or do you just focus on the 3 disciplines?
Yes, I usually do 2 or 3 sessions per week of gym, around 1h per session, in which I do physical conditioning, functional work and injury prevention exercises.
· How do you prepare or behave the last week before Kona?
The last week of training I take it very relaxed, doing some punctual training with peak of intensity but nothing too long or that I suppose an exhaustion or excess. I try to rest to the fullest that week. Approximately, this week I reduce the 40% of my usual volume.
· How do you deal with the high temperatures that Kona has?
I try to start the race as hydrated as possible and during the test, I consume as much liquid as I can. I am not exaggerating if I say that I take up to 1litro per hour of IsotonicProtein + in order not to become dehydrated.
· What makes Kona different from the rest of Ironmans and why is this a special race for you?
What makes it different is that it is the birthplace of triathlon and the test of the highest level. The pace is very high since the starting gun is given, given that we all arrived (or tried) to arrive in our best form. There is no chance to get lost or relax.
On the other hand, the wind, humidity and heat make this race very hard at atmospheric conditions. Kona is always special, for its history, for the route, for the great level. In 2008 I finished 2ndo and I felt full but I suffered like never in the segment on foot since I got blisters and in the end, I had to settle for reaching the great Craig Alexander.
· Do you think that the swim segment is complicated?
It swims in the Pacific Ocean, which is much saltier than others like the Mediterranean. This makes it float more, but the currents always tend to be strong. Of course, the seabed is amazing, you can see even turtles and dolphins. It's amazing ... although on race day there's no time to enjoy this.
· And what about the bike and run circuit?
The bike is not very complex, what makes it hard is the strong wind that is in the race especially when you climb towards Hawi, where there is a long breaststroke with wind of face. The run is very fast, it is true that there is a climb on the Palani road, but it is not crucial since you take it before the Half Marathon and the legs are still fresh. Then ... everything is to pick up rhythm and run; We are not talking about a leg breaker but tenacity and high humidity.
· What is your tactic for Kona or is this a secret?
Hehe, I really do not have any tactics. I always like to be in front in the swim part and from here, do not lose touch with the best cyclists so that I get off to run as close as possible to the head. Without a doubt, I will bet to have enough energy and pace to maintain the good running of this season and finish as much as possible on the finish line.
More information: www.multipower.es www.enekollanos.com