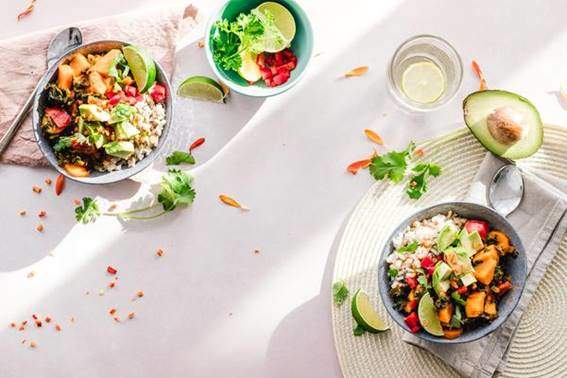 5 vegan recipes for triathletes
Our collaborator Zone3, has gathered some truly tasty recipes
Are you looking for new and delicious vegan recipes as a complement to your triathlon training program?
Do not look any further. Our partner Zone3 , has gathered some rtruly tasty ecetas based on plants that will keep your energy to the fullest whether you are training, competing or recovering.
From breakfast pancakes before training, an alternative to a more classic lunch to an abundant curry to satisfy your hunger after training a bowl of burrito full of protein that is full of goodness.
Vegan banana and compote pancakes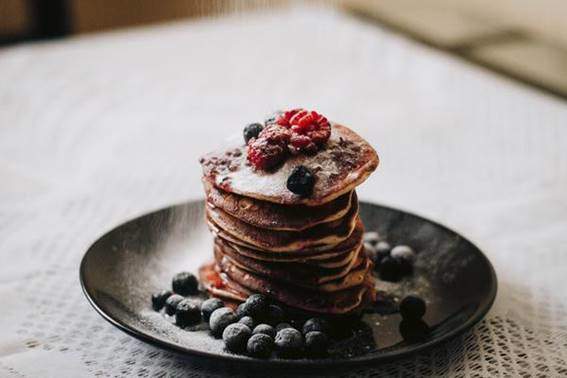 Delicious pre-workout or recovery!
For the pancakes
128g rolled oats
1 cup almond milk (or your favorite non-dairy alternative)
40g whole wheat flour
2 teaspoons yeast
1 pinch of salt
1 banana (ripe, medium)
2 tablespoons olive oil
2 tablespoons chia seeds
For the berry compote:
3 cups of fresh or frozen berries of your choice (raspberries, strawberries, blueberries)
1 teaspoon of lemon juice (freshly squeezed)
2 tablespoons of water
¼ teaspoon ground cinnamon (optional)
Preparation
First, add all the ingredients in a large bowl and blend them using a hand mixer.
Put oil in a nonstick skillet over medium-low heat and spread it with a piece of paper towels.
Pour a small amount of the mixture into the pan.
Cover the pan with a lid and allow the pancake to cook gently until the top starts to bubble, then flip it over with a spatula to cook the other side. Remove when brown, (not burned).
Repeat the above for the entire batter, stack the pancakes on a plate and place in the oven over low heat to keep them warm. (You can cook multiple pancakes at once in a large skillet or using two pans.)
While the pancakes are cooking, prepare the compote by simply adding the berries, water, and lemon juice to a small saucepan. Cook over low heat for 10 minutes or until the sauce thickens.
Remove the pancakes from the oven and serve them with compote or other ingredients such as fresh banana, cinnamon, honey, peanut butter or lemon juice.
Vegan energy bars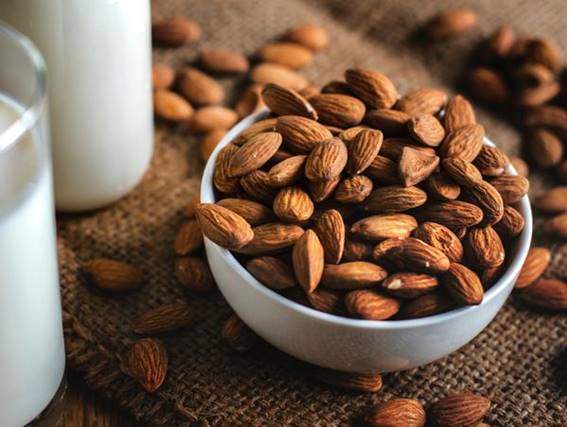 The snack to keep energy levels high and when hunger strikes in the afternoon. (Pair with a banana for a great pre-workout energy boost.)
50g Peanuts
100 g of almonds or cashews
50 grams of gluten-free vegan crispy rice
¼ teaspoon salt
25 g pure maple syrup
Preparation
Preheat the oven to 160 ° C.
Cover a square baking sheet with greaseproof paper and set it aside.
Add the almonds, peanuts, cereal, and salt to a large bowl and mix well. Pour the maple syrup over the mixture and stir until well mixed.
Pour the mixture into the baking dish. Using a rubber spatula, smooth and push the mixture into the corners until it is tight. Bake for 30-40 minutes.
Let it cool, then gently lift and loosen the tray and remove the greaseproof paper. Cut into 12 bars and enjoy! (Store them in an airtight container in the fridge).
Chickpea and Avocado Salad Wrap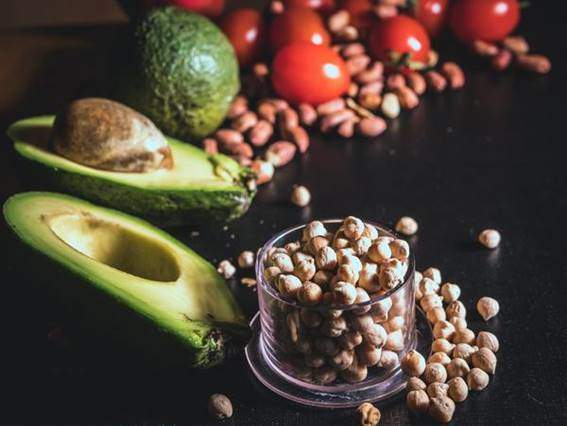 A snack full of fiber and protein, perfect for the lunchbox of any vegan triathlete.
1 can of chickpeas (approximately puree)
3 tablespoons of coconut yogurt (or any dairy-free plain yogurt) - 2
2 tablespoons vegan mayonnaise
2 tablespoons mango chutney
1 teaspoon soft curry powder
½ teaspoon of lemon juice
20g sultanas
1 Handful of spinach leaves
5 cherry tomatoes (cut in half)
½ ripe avocado
Vegan Tortilla-Wrap
Salt and pepper to taste
Preparation
Drain the can of chickpeas and mash with them (heating them lightly in the microwave will help soften the chickpeas to grind them).
Mix yogurt, mayonnaise, chutney, curry powder, lemon juice and sultanas. Mix well, then season to taste with salt and pepper.
Put the mixture in an airtight container and cool.
Meanwhile, prepare your vegan wrap. Slice the avocado and add it to the wrap with spinach and tomato leaves. Then add the chickpea filling
Sweet potato, lentils and curry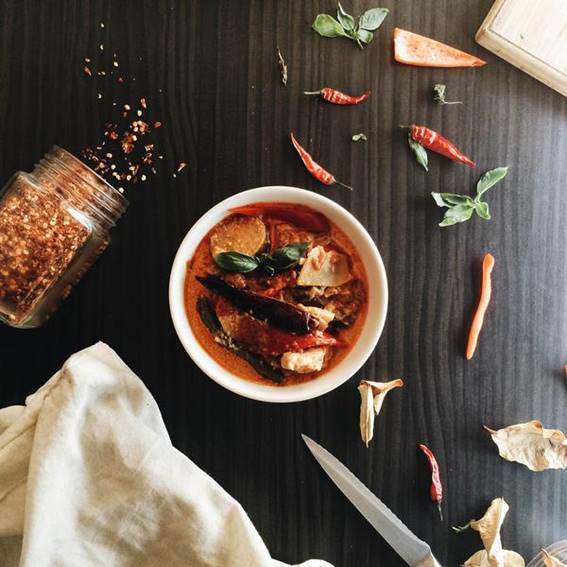 Energetic, delicious and full of protein, fiber and good fats!
1 tablespoon olive oil
1 onion (chopped)
1 teaspoon crushed garlic
1 teaspoon chopped ginger
1 tablespoon red curry paste
¼ teaspoon cayenne pepper
1 teaspoon paprika
1 teaspoon of turmeric
4 large sweet potatoes (chopped)
425g of canned lentils (drained)
425g canned chopped tomatoes
120 ml of vegetable stock
400ml coconut milk
63 g peanut butter
40 g fresh basil
2 tablespoons brown sugar
Sea salt and black pepper (to taste).
Preparation
Add the olive oil to a pot with the chopped onion, garlic, ginger, red curry paste, cayenne pepper, paprika, and turmeric, and fry until the onions have softened.
Add the sweet potatoes and chopped lentils and mix well with the spices.
Pour the chopped tomatoes, vegetable stock and coconut milk and boil. Cover the pot and let it simmer until the sweet potatoes are tender (approximately 10-12 minutes).
Add peanut butter and add fresh basil.
Finally, add brown sugar, salt and pepper to taste.
Serve with basmati rice and crushed cashews, fresh chili, fresh basil or cilantro.
Vegan Mexican Burrito Bowl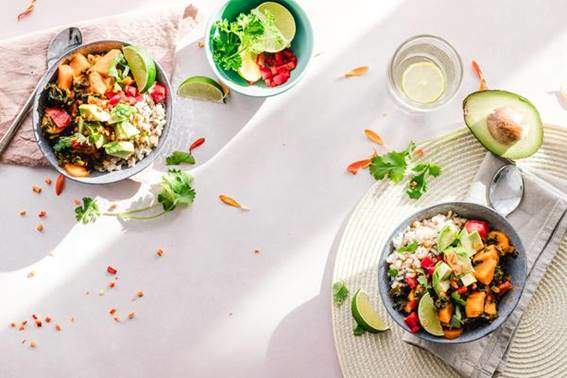 This is a highly nutritious dish and full of many different elements. It takes a little longer to prepare it but in the end it is worth it!
Quinoa Salad
Raw quinoa 200g
25g fresh coriander (chopped)
3 tablespoons fresh lemon juice
Sea salt, to taste.
Black pepper, to taste.
Preparation
Cook the quinoa according to package directions in a large saucepan with boiling water for 10-15 minutes until tender, drain well and then let cool.
Black beans
1 tablespoon olive oil
2 garlic cloves, minced
400 g of canned, drained and rinsed black beans
1 tablespoon of cider vinegar
1 teaspoon of honey
1 tablespoon of chipotle pasta
Preparation
Drain and rinse the black beans. Heat olive oil, garlic, chipotle paste, honey and cider vinegar in a pan. Once it is well mixed, add the black beans and simmer for 5 minutes or until they have warmed. Remove from heat and set aside.
Pico de Gallo (tomato sauce)
100 g cherry tomatoes (in quarters)
1 / 2 red onion (finely chopped)
2 tablespoons coriander (chopped)
Sea salt, to taste.
Preparation
For the sauce or Pico de Gallo, mix all the ingredients in a bowl and set aside.
Guacamole
1 ripe avocado, halved, chopped and peeled.
The juice of a lemon
Sea salt, to taste.
Preparation
For the guacamole, mix the avocado and lemon juice in a bowl, season to taste and set aside. (Chopped fresh chili is an excellent addition to give it some heat).
Now take the cooled quinoa, sprinkle with a fork and add the cilantro and lemon juice, then season with salt and pepper to taste.
Now you are ready to assemble your Mexican burrito plate. Scoop some of each item into a bowl and top with lots of fresh cilantro, chopped peanuts or cashews, and some fresh chili. (For a little extra crunch, serve it with tortilla chips or make it a real burrito by wrapping everything in a tortilla.)
Next time try mixing it by adding a pinch of vegan cheese, try changing quinoa to basmati rice or add sweet potato wedges or make it more spicy with lots of fresh chili.
More information at Zone3 , in his web page