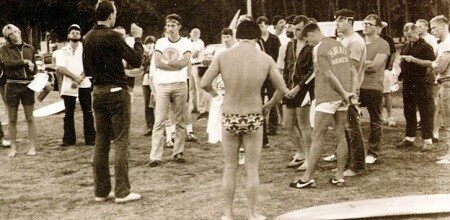 What if we hold a referendum?
 Briefing on the day of the first IM test 10 February 1978
I've been here for a couple of weeks, what do I say a couple of weeks? I've been hearing about the same thing for a few years and what I see and read has no solution.
Especially these days the different social networks "spit" comments of all kinds against those who in an IM dare to go to the wheel of another triathlete.
Everyone complains, that without being bad sportsmen !, that is not sport !, that much postureo but ...!, A thousand disqualifications.
What is clear is that nobody I know has gone to a wheel in one of those tests, and see that I know triathletes !.
It is also clear that "my acquaintances" feel cheated by those "strangers" who break the rules.
And if in Lanzarote and Calella unknown fail to think I thought about the siesta time, is that then the Spanish are not prepared mentally and physically to face challenges that in his day John Collins found for the year 1978.
Could not be that in that year to be only 15 on the starting line and also Marines with "hair on chest and legs", hard as the rocks would raise a few rules that now to be everything like office workers, firemen, house masters , professors, bank directors ... and of course also in female version, and almost all without hair on chest and legs is harder to fulfill?
Lying on the couch at the time of the siesta is clear that things I see them in another way and if in addition to background I have on TV Sálvame and the screams of Jorge Javier Vázquez, even worse. I'm not sure I'm living in realities, maybe I'm dreaming of them.
The truth is that even those who "suck wheel" are right. Look that if we had to change the regulation as in its day already happened in the Olympic distance. Yes, I know that many of you would leave the LD triathlon. Or not so many? Because if most of them go to a wheel (it is seen in the photos with large platoons), it is only a few that remain in those distances and those are my "acquaintances" that none approaches the rectangle that prohibits the regulation.
Yes, between sleep and sleep and change the channel to see the emotion of the public witnessing the passage of 200 bicycles in the cyclist round (in Teledeporte repeat everything a thousand times) I wonder: Would not it be a pass to see 2.500 bicycles pass, all with helmets aerodynamic (why they cool) coupled on the handlebar and 2 cm of the front wheel?
Surely the public would see more show and not the boredom of seeing one, then another and the 5 hours or 6 the last.
I know that my "acquaintances" who would never do this will be angry with me (a bit of sarcasm in everything), because I assure you that they are small nightmares at the time of nap and combining it with TV and the misfortunes of Rosa Benito and Bethlehem Esteban).
I wake up, I drink a glass of soy milk with a biscuit and I wonder, could we hold a referendum? (for those who do not know what it is, the referenedndum is the legal procedure by which they submit to the popular vote, laws or administrative acts whose ratification by the people is proposed, that Wikipedia says) and see what would come out. Of course, for the moment they win by a landslide those who want to go to the wheel as you can see here, there and as far as possible and of course Hawaii is no exception.
Let's vote, or is it as illegal as Catalonia's? I do not mix, that's another thing ... or so I think.
With what bad character I get up when I sleep badly!
PD / If you want you can send me your opinion, but without insults, that recently lifted I am also very sensitive.
Felipe Gutiérrez
You may also be interested in this