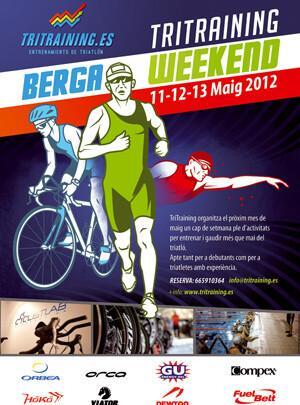 After the success of previous editions, TriTraining is organizing a weekend full of activities related to triathlon this May.
On this occasion TriTraining has chosen to make the campus in Berga, a town in the Catalan Pre-Pyrenees which, with an environment full of nature, will delight the attending triathletes.
The triathletes will be able to enjoy sessions of swimming technique, a talk on bikefitting and an on sports nutrition, session of running technique among many other activities. As a highlight of the weekend, TriTraining Weekend attendees will participate in the May 13 Sailfish Swim crossing that will complement a cycling session with a transition to running on foot.
A great weekend in which brands such as Orbea, Orca, Gu, Compex, Hoko, Viator, Fuelt Belt, Recuperat-ion Sport, Newton will continue to be present, which continue to accompany TriTraining in their activities and triathlon events of this 2012 .
Price for activities, accommodation and full board: 175 €
Federated Promotion in the Catalan Triathlon Federation: 155 €
Further information:
Web of the Stage: http://www.tritraining.es/tritraining-weekend-berga-2012/