Tokyo 2020 Olympic Games triathlon results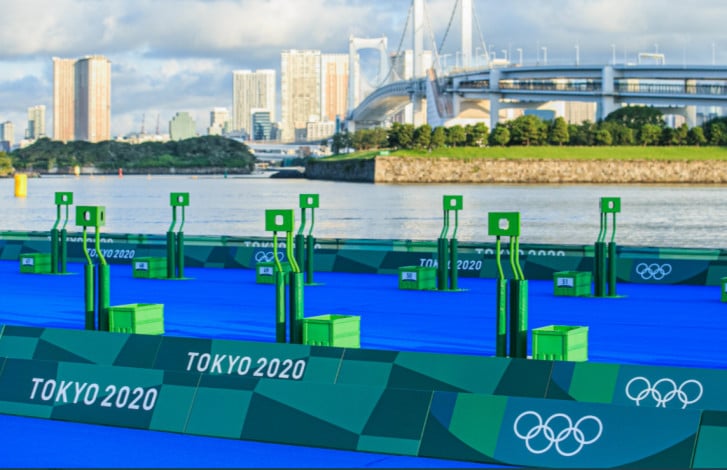 On July 26, 2021, the men's individual triathlon of the Tokyo Olympic Games was held with Javier Gómez Noya, Mario Mola y Fernando Alarza representing Spain.
Here at the male test gold went to Kristian Blummenflet, silver to Alex Yee and bronze to Hayden Wilde.
In the race of women the victory has been for Flora Duffy followed by Georgia Taylor-Brown with the silver and for Katie Zaferes with bronze.
Men's triathlon classification Tokyo Olympics
| | | | | |
| --- | --- | --- | --- | --- |
| Post | Country | Athlete | Time | Difference |
| 1 | NOR | Kristian BLUMMENFELT | 1:45:04 | |
| 2 | GBR | YEE Alex | 1:45:15 | + 0: 11 |
| 3 | NZL | Wilde Hayden | 1:45:24 | + 0: 20 |
| 4 | BEL | van RIEL Marten | 1:45:52 | + 0: 48 |
| 5 | GBR | BROWNLEE Jonathan | 1:45:53 | + 0: 49 |
| 6 | USA | Kevin McDOWELL | 1:45:54 | + 0: 50 |
| 7 | HUN | BICSAK Bence | 1:45:56 | + 0: 52 |
| 8 | NOR | IDEN Gustav | 1:46:00 | + 0: 56 |
| 9 | SUI | STUDER Max | 1:46:06 | + 1: 02 |
| 10 | ESP | COOL Mario | 1:46:13 | + 1: 09 |
| 11 | NOR | STORNES Casper | 1:46:19 | + 1: 15 |
| 12 | ESP | ALARZA Fernando | 1:46:22 | + 1: 18 |
| 13 | FRA | louis vincent | 1:46:24 | + 1: 20 |
| 14 | JPN | NENER Kenji | 1:46:24 | + 1: 20 |
| 15 | CAN | MISLAWCHUK Tyler | 1:46:28 | + 1: 24 |
| 16 | AUS | BIRTWHISTLE Jacob | 1:46:32 | + 1: 28 |
| 17 | FRA | CONINX Dorian | 1:46:48 | + 1: 44 |
| 18 | NZL | REID Taylor | 1:46:54 | + 1: 50 |
| 19 | JPN | ODAKURA Makoto | 1:47:03 | + 1: 59 |
| 20 | ISR | Sagiv Shachar | 1:47:10 | + 2: 06 |
| 21 | FRA | BERGERE Leo | 1:47:20 | + 2: 16 |
| 22 | SUI | SALVISBERG Andrea | 1:47:25 | + 2: 21 |
| 23 | BY | SILVA Joao | 1:47:30 | + 2: 26 |
| 24 | AUS | HAUSER Matthew | 1:47:35 | + 2: 31 |
| 25 | ESP | GOMEZ NOYA Javier | 1:47:46 | + 2: 42 |
| 26 | AUS | ROYLE Aaron | 1:47:57 | + 2: 53 |
| 27 | BY | PEREIRA Joao | 1:48:03 | + 2: 59 |
| 28 | BRA | Messiah Manoel | 1:48:11 | + 3: 07 |
| 29 | HUN | TOTH Tamas | 1:48:19 | + 3: 15 |
| 30 | WHO WE | Moya Diego | 1:48:29 | + 3: 25 |
| 31 | MEX | GRAJALES Crisanto | 1:48:36 | + 3: 32 |
| 32 | ROC | POLYANSKIY Dmitry | 1:48:46 | + 3: 42 |
| 33 | HKG | COGGINS Oscar | 1:48:55 | + 3: 51 |
| 34 | TUE | HOLLAUS Lukas | 1:48:59 | + 3: 55 |
| 35 | ISR | SAGIV Ran | 1:49:04 | + 4: 00 |
| 36 | ROU | DUCHAMPT Felix | 1:49:06 | + 4: 02 |
| 37 | ITA | POZZATTI Gianluca | 1:49:14 | + 4: 10 |
| 38 | GER | Jonas Schomburg | 1:49:34 | + 4: 30 |
| 39 | ITA | STATEFF Delian | 1:50:00 | + 4: 56 |
| 40 | GER | NIESCHLAG Justus | 1:50:10 | + 5: 06 |
| 41 | AZE | PEVTSOV Rostislav | 1:50:46 | + 5: 42 |
| 42 | USA | Pearson Morgan | 1:52:05 | + 7: 01 |
| 43 | ROC | POLYANSKIY Igor | 1:52:07 | + 7: 03 |
| 44 | LUX | Zachaus Stefan | 1:52:21 | + 7: 17 |
| 45 | TUE | ESSADIQ Mehdi | 1:53:25 | + 8: 21 |
| 46 | MEX | PEREZ Irving | 1:54:02 | + 8: 58 |
| 47 | SYR | MASO Mohammad | 1:54:12 | + 9: 08 |
| 48 | IRL | WHITE Russell | 1:54:40 | + 9: 36 |
| | | | | |
Women's triathlon classification Tokyo Olympics
| | | | | |
| --- | --- | --- | --- | --- |
| Post | Country | Athlete | Time | Difference |
| 1 | BER | DUFFY Flora | 1:55:36 | |
| 2 | GBR | TAYLOR-BROWN Georgia | 1:56:50 | + 1: 14 |
| 3 | USA | ZAFERES Katie | 1:57:03 | + 1: 27 |
| 4 | NED | KLAMER Rachel | 1:57:48 | + 2: 12 |
| 5 | FRA | PERIAULT Leonie | 1:57:49 | + 2: 13 |
| 6 | SUI | SPIRIG Nicola | 1:58:05 | + 2: 29 |
| 7 | ITA | BETTO Alice | 1:58:22 | + 2: 46 |
| 8 | GER | LINDEMANN Laura | 1:58:24 | + 2: 48 |
| 9 | GBR | LEARMONTH Jessica | 1:58:28 | + 2: 52 |
| 10 | BEL | BARTHELEMY Valerie | 1:58:49 | + 3: 13 |
| 11 | NED | Mayan KINGMA | 1:59:16 | + 3: 40 |
| 12 | HUN | BRAGMAYER Zsanett | 2:00:00 | + 4: 24 |
| 13 | GBR | HOLLAND Vicky | 2:00:10 | + 4: 34 |
| 14 | USA | RAPPAPORT Summer | 2:00:19 | + 4: 43 |
| 15 | CAN | KRETZ Amelie | 2:00:33 | + 4: 57 |
| 16 | USA | KNIBB Taylor | 2:00:59 | + 5: 23 |
| 17 | RSA | ACKERMANN Simone | 2:01:14 | + 5: 38 |
| 18 | JPN | TAKAHASHI Yuuko | 2:01:18 | + 5: 42 |
| 19 | SUI | ANNEN Jolanda | 2:01:31 | + 5: 55 |
| 20 | ITA | STEINHAUSER Verena | 2:01:47 | + 6: 11 |
| 21 | ESP | CASILLAS GARCIA Miriam | 2:01:52 | + 6: 16 |
| 22 | BY | SAINTS Melanie | 2:02:06 | + 6: 30 |
| 23 | IRL | HAYES Carolyn | 2:02:10 | + 6: 34 |
| 24 | NOR | Miller Lotte | 2:02:43 | + 7: 07 |
| 25 | WHO WE | Barbara Rivers | 2:02:46 | + 7: 10 |
| 26 | AUS | JEFFCOAT Emma | 2:02:57 | + 7: 21 |
| 27 | TUE | PERTERER Lisa | 2:03:00 | + 7: 24 |
| 28 | BRA | LOPES Vittoria | 2:03:09 | + 7: 33 |
| 29 | NZL | van der KAAY Nicole | 2:03:26 | + 7: 50 |
| 30 | CZE | KURIKOVA Petra | 2:04:10 | + 8: 34 |
| 31 | GER | KNOLL Anabel | 2:04:45 | + 9: 09 |
| 32 | BRA | BAPTIST Luisa | 2:05:32 | + 9: 56 |
| 33 | ARG | BIAGIOLI Romina | 2:07:42 | + 12: 06 |
| 34 | BEL | MICHEL Claire | 2:11:05 | + 15: 29 |
Tokyo Olympic Games mixed relay triathlon classification
Unfinished