Calella spreads the spirit of the Challenge for the Maresme with the Kids Challenge Barcelona-Maresme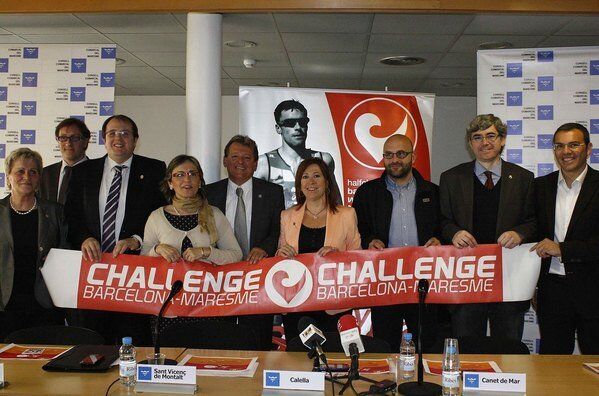 In case the involvement of the Challenge in the Maresme region, the organizers of the athletic test, at the request of the Consell Comarcal del Maresme, have devised the child version of the career. An initiative in which the participation of 6.000 athletes is expected in the different series to be held in seven towns of the region. The Kids Challenge Barcelona-Maresme consolidates, even more if possible, the roots of triathlon in the territory.
Calella, Sant Pol de Mar, Canet, Arenys de Mar, Sant Vicenç de Montalt, Mataró and Premià de Mar share a sports project with the Kids Challenge, an initiative of the Costa de Barcelona Maresme triathlon club based on an attempt to promote values sports and the culture of effort among the little ones. In all these municipalities sports days will be organized aimed at schoolchildren between the three (accompanied by parents) and 16 years.
In the presentation, which was attended by mayors and councilors from the different towns, the pioneering experience of Calella was announced, an event in which, according to its mayoress, Montserrat Candini "gathered 600 children". With the Kid's Challenge, the city of Calella and its mayor intend to show "their complicity and generosity with the municipalities that support the race" which for the second consecutive year has been declared the best Triathlon in the state.
The president of the Regional Council, Miquel Àngel Martínez, in turn mayor of Sant Vicenç de Montalt, insisted that the Challenge is "something more than a sporting event" for the Maresme and praised the level of internationalization it brings to the territory and the complicity that it generates among the citizens "as can be seen when the runners pass by."
Each municipality, with the logistical and technical support of the Triatló Club, will organize its own Kid's Challenge and will contact the respective schools so that their students can register. The categories have been established in: 1000 m. for 1st, 2nd, 3rd and 4th of ESO; 1000 m. for 5th and 6th grade of primary school; 750 m. for 3rd and 4th grade of primary school; 500 m. for 1º and 2º of primary and 250 meters for boys and girls of P3, P4 and P5.
The calendar of the different events begins on April 22 in Sant Vicenç de Montalt and is followed by Sant Pol de Mar (1.05), Arenys de Mar (5.05), Calella (26.05 and 29.09), Mataró (14.10), Canet de Mar ( 27.10/11.11) and Premià de Mar (XNUMX/XNUMX).
Source: La Vanguardia