Francesc Sola triumphs in Eilat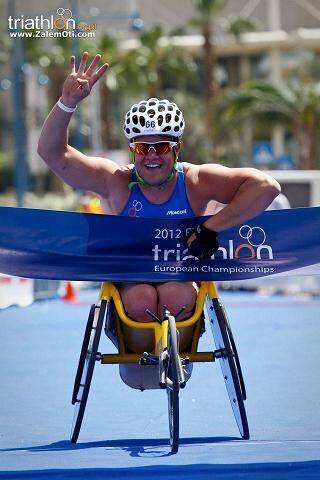 During the last day of the Eilat European Championships it was the turn of the participants in the six categories of paratriathlon. Spain was represented in the male categories of TRI-1 and TRI-4.
All participants performed a first 750m swim segment in the waters of the Red Sea. Then in the cycling sector, they did four laps around the circuit until completing a total of 20 km. Finally, they covered two laps of a total of 5 km of running.
In the TRI-1 category, Francesc Sola took the gold after a splendid race and after completing the test in 01:07:00. The Spanish took his third consecutive title after the championships obtained in 2010 in Athlone (Ireland) and 2011 in Pontevedra. Sola was accompanied on the podium by the British James Goddard and Joe Townsend; silver and bronze respectively. For his part, the other Spaniard at stake, Rafael López finished in a notable fifth place.
Meanwhile, in the TRI-4 category, Toni Franco crossed the finish line in sixth place. The winner of the test was the German Martin Schulz, followed by the Hungarian Peter Boronkay in second place. While the bronze medal went to the Italian Alessio Borgato.
TRI-1 Paratriathlon Classification:
1 Francesc Sola ESP 01: 07: 00
2 James Goddard RU 01: 08: 30
3 Joe Townsend RU 01: 11: 34
4. Jörg Walden ALE 01:13:04
5. Rafael Lopez ESP 01:22:33
TRI-4 Paratriathlon Classification:
1 Martin Schulz ALE 01: 00: 20
2 Peter Boronkay HUN 01: 03: 25
3 Alessio Borgato ITA 01: 07: 45
4. Zoltan Balogh HUN 01:08:53
5 Rob Noordzij NED 01: 09: 07
FETRI