Unbeatable start at the 2012 for Javier Gómez Noya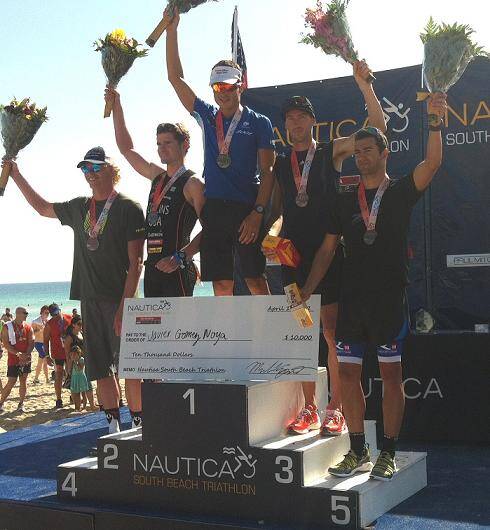 The debut of Javier Gómez Noya in the Olympic season has not been able to have better result: victory in the Miami triathlon, 1ª appointment of the US Toyota Cup professional circuit.
A competition on the Olympic distance but with classic cycling regulations, without being able to go to the wheel, which continues to apply in that country unlike in the triathlons dependent on the international, European and Spanish federations. More than 2.000 triathletes participated in the Nautica South Beach, with the 30 of the professional category starting in the 1st round.
Javi finished the swim in 2nd place at the feet of Dustin McClarty, with almost half a minute of advantage over the following. In the flat round-trip cycling route he was the leader, until he was overtaken by another American, Ben Collins, who came in the lead at the 2nd transition. Javier was overtaken by the 2011 winner Cameron Dye, but did not escape him and they came together 1'15 behind the leader. An ideal situation for the Galician considering his superiority in the last phase. The only one who could perhaps "cough" on foot Bevan Docherty (2004 World Champion and medalist in Athens and Beijing) reached that 2nd transition in more than 2 minutes, hence there was no danger.
Javi soon took the lead, being able to control the advantage as it was a round trip. Without squeezing himself thoroughly, he set the best part time in the 10km, to cross the finish line with 1'07 advantage over Collins and 3'06 over the aforementioned Docherty, who beat Cameron Dye on foot. The podium, with 5 boxes, was completed by the other Spanish participant, Françesc Godoy.
A victory that indicates that the preparation for London is well under way. His next competition will already be with the usual format, the absolute European Championship in Eilat (Israel) on Saturday, April 20, where he will face some of those who will be his rivals in the Olympics. In principle, unless the weather conditions are adverse, he will train these 3 weeks in his usual city of residence, Pontevedra.
Source: Gómez Noya Press