Today the bike sleeps outside Less than 10 hours for the IronMan in Lanzarote to start. 3.8 - 180.2 - 42.2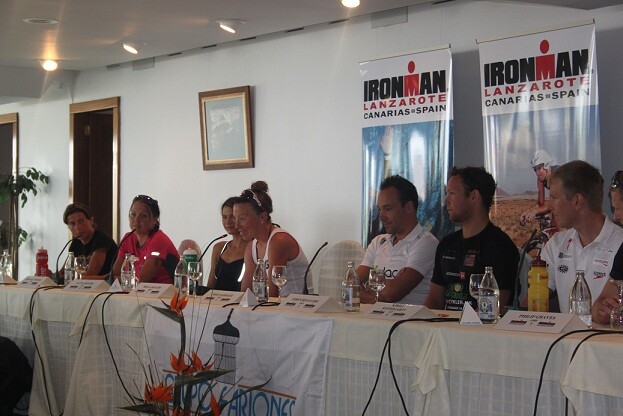 At this time we can see hundreds of bikes that are at this time perfectly placed in the box area located in the center of the town of Puerto del Carmen in Lanzarote.
In the official press presentation held today at the Fariones Hotel we have been able to count on the presence of the great favorites that will participate tomorrow in this long-awaited event, in search of the necessary points that will grant them their place for the "mecca" of Triathlon: IronMan from hawaii
The English triathlete Philip Graves, with great potential in Olympic distance, told us about his enthusiasm for participating in the IronMan in Lanzarote and thus being able to reach Hawaii, thus mortgaging the possibility of having achieved a pass for the Olympic Games, which makes us reflect on the real magnitude of this test.
Among these great stars, the triathlete Bella Bayliss, 15 times winner in the Ironman distance, this year returns to Lanzarote after her recent motherhood last summer with the aim of achieving her 3 gold in this event.
Victor del Corral and Saleta Castro They are the most representative Spaniards who will participate in the IronMan in Lanzarote and who will also be accompanied by about 500 Spanish triathletes who will participate in this test in age groups.
Paratriathlon also has a place in Lanzarote. Javier Mérida will also fight for a place on the podium in this category.
The test will begin at 7 in the morning with a time limit of 17 hours.
With a positive unevenness in the cycling segment of more than 2500 meters, Ironman Lanzarote is considered one of the toughest tests in the world,