Marcel Zamora has published a book, WHO WANTS A BETTER LIFE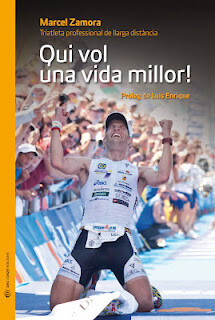 The international triathlete, Marcel Zamora, of great international recognition having been 5 times champion of the Ironman of Nice and 2 times champion of the Ironman 70.3 of Monaco, today presents his new book "WHO WANTS A BETTER LIFE".
Here is what he tells us through his blog:
Some of you may wonder, why this title to the post. Well, because that's the name of my book that from this week you can find in bookstores and also in stores like Probike, since since 1997 they have always been by my side and this time it was not going to be less. They have been privileged to be the first to sell it since yesterday.
It is a book where I explain all my path since I started in the world of triathlon in 1995 until today, with many anecdotes that not even my closest people know, without leaving aside many moments of my childhood that I have led to being a professional triathlon. Also the sweetest and hardest situations in this profession.
I am sure that people from different fields will like it, since the message is not only for triathletes, athletes or sports fans. The general message I think that each person will understand it differently for their day to day.
The prologue has been made by the ex-footballer Luis Enrique, with whom I have been able to share, trainings and triathlon competitions, I take this opportunity to thank him.
On April 10 at 19:30 p.m., the book will be presented in Barcelona, ​​in the bookstore, Casa del Llibre, in Passeig de Gracias num 62. Of course, anyone who wants to come and I am delighted !!
http://www.casadellibro.com/nosotros/tienda/passeig-de-gracia-62/4
At the moment the first edition has been published in Catalan and soon in Spanish, also awaiting the possibility that it will be published in Italian and French.
I hope that for a short time you all can have it in your hands, that you can enjoy it, as my friend Josetxo would tell me, WHO WANTS A BETTER LIFE!
Source: www.marcelzamora.com