All prepared for the Banyoles World Cup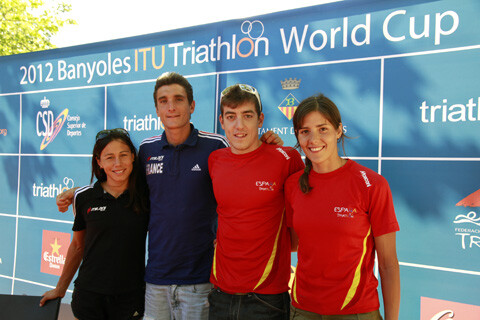 The press conference to present the Banyoles ITU Triathlon World Cup took place on Friday afternoon on the shores of the lake in the Girona town. The event was attended by international triathletes Andrea Hewitt, Laurent Vidal, Fernando Alarza and Carolina Routier.
The New Zealand triathlete, currently in second position in the World Series ranking, has analyzed her preparation for the big event this summer, noting that "last year I qualified to participate in the London Olympics, so I had a year to train." In turn, he has commented that he has been "training a lot in Australia at the beginning of the year... I finished third in the two competitions (Mooloolaba World Cup and the Sydney World Series), that is very good results and it has been the best preparation for the London Olympics.
For Frenchman Laurent Vidal, winner of the Mooloolaba World Cup at the end of March, he stated that competing in "Banyoles reminds me a lot of home. We have the same trees, the same air, very dry and warm, the same type of mountains… it is as if I were competing in my house".
Both triathletes attend the Banyoles event immersed in their preparation for the next Olympic Games. from London and have valued the proximity of the Girona town very positively in its set-up for the British event next August.
After a remarkable start to the season in which he achieved third place in the Quarteira European Cup and the Larache African Cup, as well as finishing 12th in the Eilat European Championship, Fernando Alarza declared that "I knew that I could reach a good level this year, but I didn't know I could achieve it at this level and here in Banyoles I am very motivated by how well everything has gone and I hope to have a good level here and play a good role ".
For her part, local triathlete Carolina Routier and gold medalist in the Larache African Cup, has commented that "it is a luxury to run at home, so close to the
best triathletes in the world, it is a bit strange feeling, since on the one hand I feel very comfortable and very comfortable and at the same time I also have those typical nerves from before the competition, so it is a special feeling ".
The women's event will take place next Sunday, June 17, starting at 9:45. Then at 12:45, the men's competition will start.