How to swim in a straight line in open water?
We tell you the technical aspects that you must control and the exercises you must perform to improve.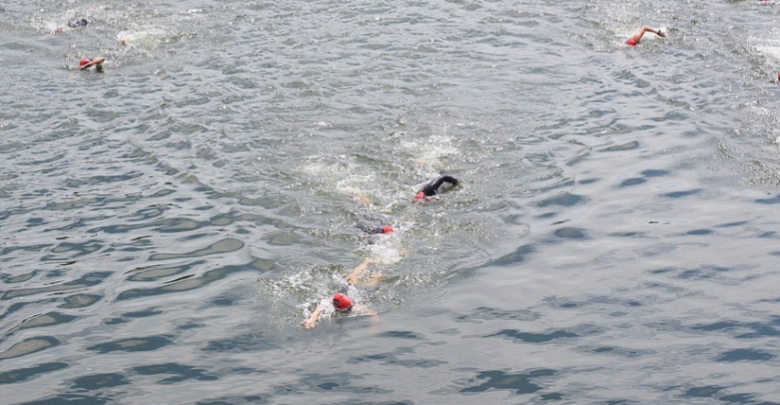 If it costs you swim linearly in open water we tell you the technical aspects that you must control and the exercises you must do to improve.
Why do I "strain"?
Pay attention to the line drawn by your hand during the underwater phase. If the orientation of the palm and arm is not directly backwards (towards your feet) it is very likely that you will suffer deviations. Also, if you only notice the deviation to one side, look at the arm on the opposite side, possibly the cause.
Try to take the traction to the end with both arms. If one of them does not finish efficiently the stroke, the impulse between both arms will be unbalanced and you can suffer deviations.
Crossing of the midline in the entry phase. Each time one of the arms crosses the midline of the body, it will move you to the side, so you must pay attention to make an entrance aligned with the shoulder.
How to improve
Here at the Swimmingpool performs series where alternate normal breaths with frontal visualizations so that every time you look in front you have to see an object (cone, ring, watch) without losing the speed of swimming.
En open waters, look for a section between 30 and 50 meters where each end is marked with a buoy. You must swim from one point to another without looking at the buoy. You will be able to breathe on both sides or only one but you will not be able to look forward.
Search external reference points whenever possible (building, tower, mountain, house, etc). On many occasions the visualization of the buoy makes it difficult (waves, sun on the front, mass of swimmers, etc.), having an external reference point will allow you to continue on the line of progress towards the buoy.
Coordinate your breaths to be able to orient you The frequency of visualization will depend on your dexterity to maintain orientation. If you tend to deviate a lot, do not spend more than 4 strokes without taking a quick look at the buoy.
The open waters can be trained from the pool, but it is very important that you dedicate training to the competition's own environment for greater adaptation.
Laura García Cervantes
Dra. Science of Physical Activity and Sport
Club Trikatlón Tres Cantos Sports Director
Triathlon and Swimming Senior Trainer
Paratriathlon Specialist Trainer