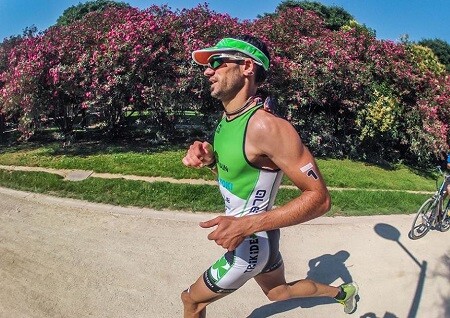 We interview Raúl Amatriain from Navarra, one of the triathletes with the greatest merit of the national scene.
Raúl Amatriain He has his weekly 40h work that he combines with training and competitions. Despite not being able to devote 100% to triathlon always shines in the competitions to which it goes and obtains great results
Hello Raúl, how about everything? I hope you have started this 2016 very well. A triathlete like you who combines a weekly 40h workday How is a week of you combining work and training?
Very good, how are you? Yes, I'm still working, I've always worked (except for a couple of months) and the truth is that it's complicated to combine everything. I have already said it many times, but I think that the main thing that I achieved this last year has been to realize that I must adapt the training to my life and not the other way around. Realize that if one day I can not train, then nothing happens. Of course all this would be impossible without the support and understanding of my family and my wife above all, which is what most suffers me.
At the end I leave home to go to work at the 7.30 in the morning and return to the 18 hours. The issue of early mornings to train and I left, I did not compensate and I spent a lot of money. I try to train what I can, it's complicated because every time there is less time and more obligations, although I think I have a base generated all these years that saves me a little furniture. With this and the hand of Gorka, we must try to get the best possible performance at the time I have. I do not even come close to the volumes that I read out there, but hey, a typical week could be:
Swimming: 2 at most 3 days a week: Monday, Wednesday and Friday. I swim with the companions of Saltoki - Trikideak, who take my eyes out, so they make me squeeze myself to the brim.
Bike: I can only go out on the weekend, so I take the opportunity to make a longer run. I try to get 1 roll day during the week.
Race on foot: I usually take out 3, at most 4 days of running.
This year, thanks to the collaboration of Sakro, I'm getting 2 sessions of strength and preventive work, which I had never done before.
At the end it is about adapting: if I roll the 1 I remove the race or water session and vice versa. Depending on the period of the season in which I am and what interests me to work more, Gorka is planning one thing or another.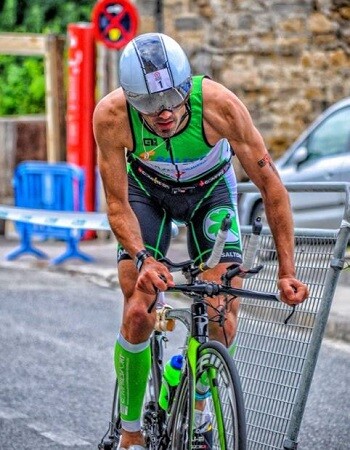 Last year you won in Ribadesella and you were second in Pamplona and Valencia, in addition to winning the general NDS and other good results. How do you summarize your 2015 season?
The season was very good in general terms. At the level of results it was very good, better than expected. In addition to these races I won the Duathlon LD Championship for the second year, I was in the Duathlon European Championship, 2º also in Menorca ... I am aware that it is getting harder and harder to be up there, so it's nice to see that I'm still being competitive
I have enjoyed and I have had a good time both competing and training, although at the beginning it was difficult for me to take out the training I was doing in competition. Winning the general NDS was a surprise that rewarded a little the regularity I had in different tests.
Last year, the first edition of the Pamplona Half Triathlon was held, the first MD triathlon in your city. I suppose it would be very special for you to compete with your people. How did you feel about the race?
Last year I had to suffer, I did not have my best day, but it was definitely worth it. This is the Triathlon that to all of us who love this sport and we are from here we had dreamed once. To be able to run at home, to ride by bike competing for the areas where I train the most and end up running through the old part, with a slope of Santo Domingo peta from friends and acquaintances is something difficult to explain. I think most of the runners here got goose bumps going up Santo Domingo.
El Half Triathlon Pamplona it was a success in its first edition ... and for this second the inscriptions were sold out months before the competition. What advice can you give to the triathletes who make their debut this year?
The advice would be to enjoy it, I think it is a very nice and special race that you have to enjoy, to finish a Triathlon running through the course of the encierro, with the slope of Santo Domingo full of people ... that's an extra.
At the organizational level I think it's a race that has very little or nothing to envy to others with much more name. I think that last year they set the bar very high, although I am convinced that this year they will be better again. It is a triathlon where you try to make things easier for the triathlete and not just stay in a race where people go, run and leave without more, when they leave they do so with a good impression.
As far as the race is concerned, it's a triathlon that everyone with adequate preparation can do without problems: swimming is done in the Swamp Alloz, a very good place to swim, where the greatest difficulty may be in the visibility of the buoys depending on how the sun (hopefully there is sun). Although I know that you already have several ideas in your head so that this does not happen.
The bike is very fast, to be coupled most of the time, although it has several steep slopes, typical of this area that make you stand up. The biggest problem may be in the wind, since it is an area where there is usually enough face air in the direction of the race and can make this segment more complicated, although there is more to see the partial ones last year to realize that It is not complicated. And the race on foot is the icing on the cake.
Running through the center of the city is a plus. It is also true that this segment is the hardest, it has everything: ascents, descents and a flat part to be able to run at ease. You have to save a little for this section, but calm that when you see the profile of the race, but then we all want the climb to come.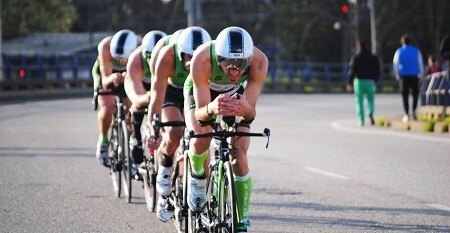 And besides trying to win in Pamplona, ​​what are your main objectives for 2016?
I tell you a little about the intentions that I have today, then it is possible that on the same way there is some modification, but in principle this is the idea more or less: I will start running some duathlon here in Navarre and then the idea is to participate in he Spain Long Distance Duathlon Championship in Orihuela like these years. Then there is the Spain Duathlon Championship and of Team Time Trial, as far as duathlons are concerned.
As for triathlons, I have more or less thought about the calendar of the 1ª part of the season: surely the debut will be in Elche and then continue with the Half Pamplona and Valencia on Spain MD Championship. Up to this point it is more or less clear.
From here it will be necessary to see how I am, how long I have, vacations ... there are many ideas in my head, with many careers that I would like to sign up for, but from the summer there are more aspects to consider. I would love to go back to Ibiza (there I ran my first LD), but for me to keep training until October is fucked up, so we'll have to go on the road. Among these triathlons I will run a shorter one, Triathlon Aritzaleku and surely some more. And if the team needs me to run some more test and I can, I'll be there. As I told you, the main thing is to continue enjoying, without burdening me and making my life as much as possible compatible with sports, in line with the 2015 or better.
You are an all-terrain athlete, you compete in competitions without draftig in medium and long distance, but you also always meet your club in short events. The Saltoki is one of the classics of the national triathlon, which always tries to have good participation in the big championships. How do you support the athletes from the club?
The club does everything it can to support us. It is appreciated the work done by Gorka Blasko, Pablo Arrastia and Iñaki Garaio to get all this forward. We are a humble club, with very little help and that takes oil with what little it receives. As a team interested in being in the championships of Spain and others, because the little help they receive comes from these competitions, so all these races the club runs with expenses.
From here, Gorka is a thinking head and is always trying to get things out to benefit team members: agreements with different brands for discounts to athletes, find sponsors for the team ... all to give more facilities and get support for the club components.
Finally, who are your main sponsors for this season?
In this sense, I feel very fortunate. I still maintain the sponsorships of Ale for bike clothing, Compressport compression clothing, Victory Endurance with the whole subject of supplementation and Pinarello with the bikes. Apart from the collaborations: Bollé with the cycling glasses, FastForward with the wheels of the bike, Sailfish the neoprene, On with the running shoes and Sakro physiotherapy and rehabilitation center for the theme of strength.
Thank you very much for the interview Raul, we hope that this 2016 you can shine the same or more than last year ... and above all achieve the victory in Pamplona that so much enthusiasm makes you.
Thank you very much, it is appreciated that you remember one.
Photos: Adolf Boluda / Photo Tri Pamplona / Iván Otero
Price drop on Amazon
80,21€
3 New From 247,89 €
45 Used From 80,21 €

Amazon.com
440,44€
4 New From 440,44 €

Amazon.com
More discounts