Víctor del Corral and Michelle Vesterby, winners of the XXI Ironman Lanzarote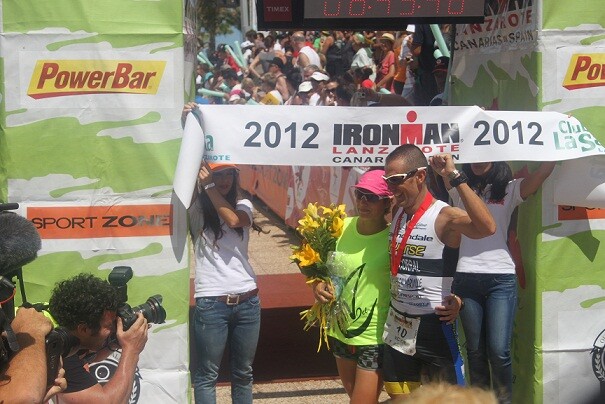 Víctor del Corral, current European cross triathlon champion, was proclaimed 'Iron Man' on the island of Lanzarote, in the toughest Ironman in the world, entering the finish line located in Puerto del Carmen first and alone after having faced 3,8 kilometers by swimming, a stage by bicycle of 180 km. and later 42,195 kilometers running.
Despite a somewhat irregular start in swimming, where he did not finish in the top ten, Victor was recovering positions in the cycling stage until he finished in second place. It was by running the marathon that the Catalan was able to take the lead, thanks to the fact that the British Philip Graves, winner of the UK Ironman in 2010, retired injured at kilometer 15.
After facing the remaining twenty-seven kilometers alone, Víctor Del Corral was crowned the winner of the test with a time of 8:44.40, ahead of the British Stephen Bayliss, second, and the Portuguese Sergio Marques, third.
"I am much more than happy for this victory, I have fulfilled a goal and a dream. I think it is the most important triumph of my sports career, at least the one with the most sentimental value, since being Spanish, winning an Ironman in Lanzarote is the ultimate", commented the triathlete at a press conference.
"I have been preparing this test in Lanzarote since last November and since that month I knew that the objective of the season was this", declared Del Corral, who said that the race took place "with a lot of heat and with a moderate wind", feared meteorological factors by all participants.
With this victory, Víctor Del Corral becomes the second Spaniard to win the Ironman of Lanzarote after the man from Vitoria Eneko Llanos, which expired in 2007 and 2010.
In the women's category, the victory went to Danish Michelle Vesterby, who had a time of 9:58.10. The second place went to the British Bella Bayliss, winner of the Lanzarote Ironman in 2008 and 2009, which finished in 10:06.16:10, while the Dutch Helene Bij de Vaate was third when finishing in 27.38:XNUMX:XNUMX.
Saleta Castro, a triathlete who occupied the top positions in the classification for a good part of the test, broke down in the segment of the race on foot and finally finished the Ironman Lanzarote in seventh place.
The test registered a record with 1.694 registered participants, 227 more than in 2010, an edition that had the highest participation so far with 1.567 registered.
General ranking:
Male:
1st Víctor Del Corral (ESP) 8h44.40
2nd Stephen Bayliss (GBR) 8:53:38
3rd Sergio Marques (POR) 9:02:59
Female:
1st Michelle Vesterby (DEN) 9h58.10
2nd Bella Bayliss (GBR) 10h06.16
3rd Helene Bij de Vaate (NED) 10h27.38.
EFE