New raw bar, bar made of dates, protein and hazelnut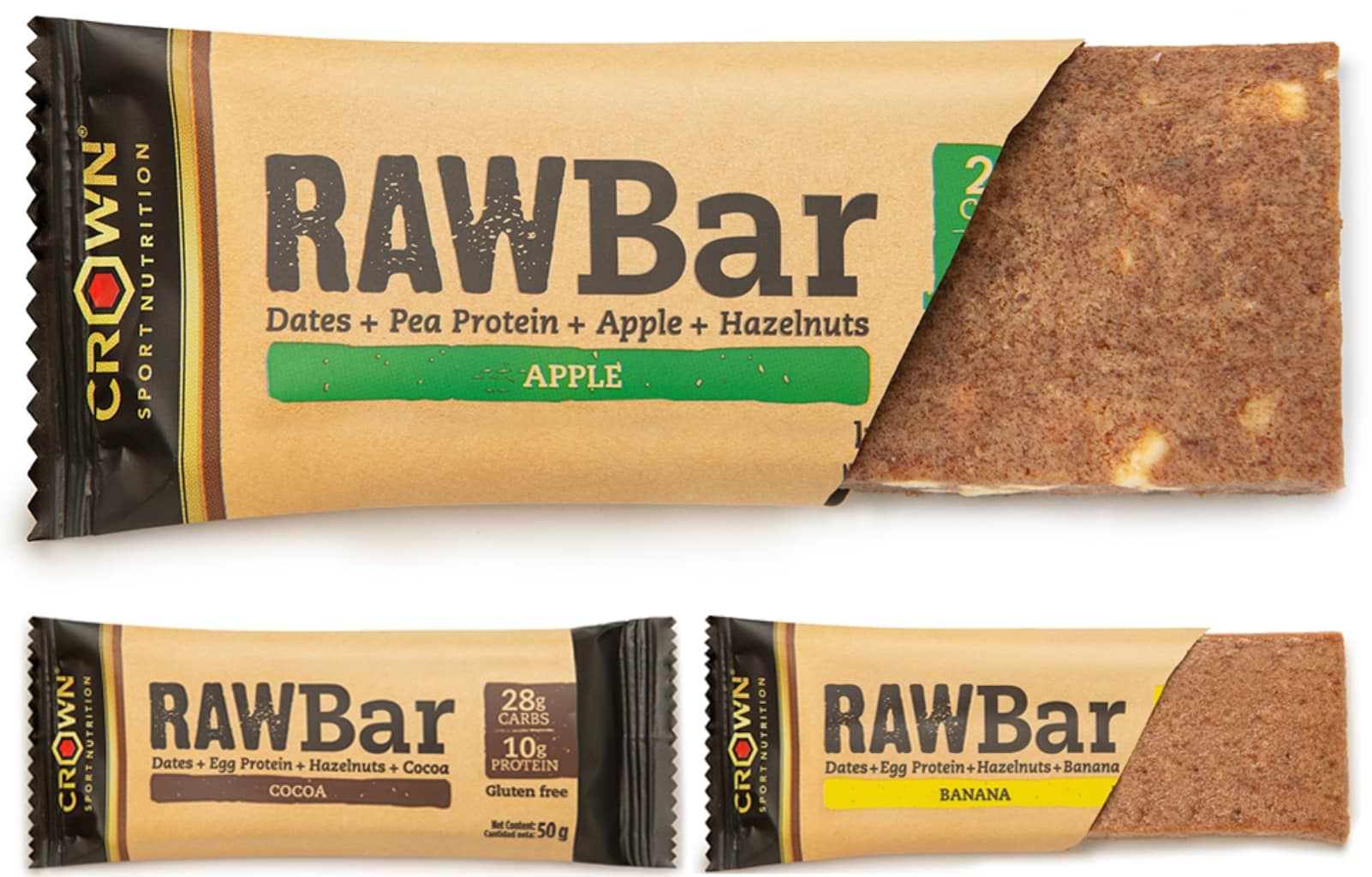 Crown Sport Nutrition expands its range of bars for athletes with the new RAW Bar.
These bars are characterized by being made from dates, protein powder, hazelnuts and without any type of artificial sweetener.
They can be taken between meals or after training as they have around 28 g of carbohydrates and 10 g of high biological value protein per bar.
RAW Bar It is a snack bar based on dates, egg white or pea protein (in the vegan version) and hazelnuts with the highest quality and a premium composition that provides both the energy and proteins necessary for your daily life.
Composition:
It has a unique juicy texture that is easy to eat and, in addition, it has been made cold and without any type of heat or cooking treatment, so it preserves all the nutrients of its ingredients.
Contains a balanced mixture based on:
Dates
what it brings carbohydrates (energy), mostly as a source of glucose and fructose approx. in 1:1 ratio. But not only that, since dates provide many other micronutrients such as vitamin C and B complex vitamins; more than 10 minerals, including Potassium, Magnesium, Copper and Selenium; and a wide range of biochemical phytoactives such as polyphenols and carotenoids. It also contains insoluble fiber which is important for our health.
Egg white or pea protein,
or what it contributes proteins of high biological value fundamental for muscle reconstruction, but without forgetting the importance they have in our daily lives for the immune system, hormonal system, etc.
Seasoned with a touch of Hazelnuts
This dried fruit will provide us with texture and flavor, but also with extra healthy fatty acids.
The ingredient that gives each flavor, the Cocoa powder, chips Banana or the Apple And a little coconut butter so that everything compacts well and gives it juiciness.
RAW Bar It does not contain any type of chocolate coating to make it easier to transport and prevent it from melting or spoiling in the heat. Since it does not have any coating, it has less fat, which makes it more digestible.
And like all Crown Sport Nutrition® products with a unique flavor, texture and digestibility.
Features:
With the carbohydrates provided by the date; approx 28g
With the proteins provided by the egg or pea; approx 10g
Ratio approx. 3/1 between carbohydrates and proteins (Recovery Function)
Snack with a juicy texture and incredible flavor
No sweeteners, colorings or unnecessary ingredients
Gluten-free and with a flavor suitable for vegans
RRP: €2,49 per 50 g bar
Flavors: Banana / Cocoa / Apple (vegan)
THE BRAND
Crown Sport Nutrition is a Spanish brand specialized in high performance. First Spanish company with Informed-Sport anti-doping certification, they have carried out numerous scientific studies with several articles published in JCR Q1 and Q2 that endorse several of their products and their philosophy. They feature science-based formulations, raw materials, and high-quality manufacturing.
They collaborate with international universities and institutions such as the University of Greenwich, UFV and ESSNA, as well as top-level international athletes, teams and federations.
They are currently expanding internationally in European markets, the Middle East and Latin America.