Black Friday at Crown Sport Nutrition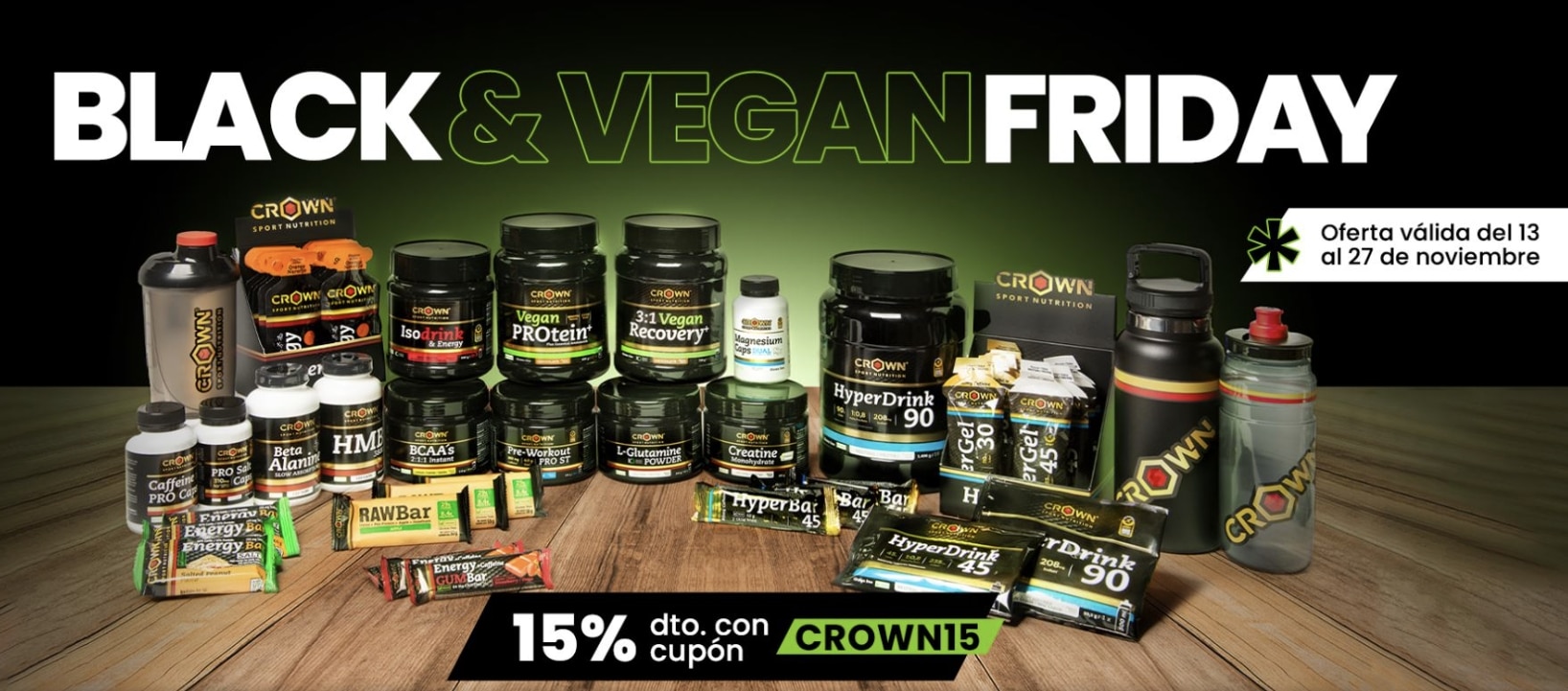 Crown SportNutrition, leading Spanish brand in sports nutrition, celebrates the Black Friday with an irresistible offer for athletes and sports fans.
Until November 27, customers can enjoy a 15% off on all products using the code CROWN15.
Featured Products
Among the products featured in this promotion is the Hyper Gel 30, an energy gel high in carbohydrates with extra sodium.
This product, which provides 45 g of carbohydrates and has a mixture of maltodextrin and fructose in a 1:0,8 ratio, is perfect for athletes looking for a boost of energy during their training or competitions.
In addition, its neutral flavor and pleasant texture make it easy to consume at any time. The HyperGel 30, priced at €3,25, is an ideal option for vegans and is allergen-free.
Another star product is the Energy GUM Bar, a gummy energy bar with extra sodium.
Each bar provides 23 g of carbohydrates and, in the strawberry and cola versions, 64,4 mg of caffeine.
In addition to its incredible flavor and digestibility, this bar contains minerals from assimilable sources and a plus of branched chain amino acids, arginine and taurine. Available at the price of €1,99, the Energy GUM Bar is an excellent option to maintain energy during exercise.
Check all the promotions in your web page
The brand
Crown Sport Nutrition is not only known for its high-quality products, but also for its commitment to science and research.
As the first Spanish company with Informed Sport anti-doping certification, they have carried out numerous scientific studies that support their products.
Collaborating with international universities and institutions such as U. Greenwich and UFV, Crown Sport Nutrition is a trusted brand for top-level international athletes, teams and federations.
This Black Friday promotion is a unique opportunity for triathletes and athletes of all disciplines to access the highest quality sports nutrition products at discounted prices. Furthermore, with the international expansion of the brand in European markets, the Middle East and Latin America, Crown Sport Nutrition is positioned as a global benchmark in the field of sports nutrition.