Fernando Alarza sweeps the Ironman 70.3 Cascais and qualifies for the 2019 World Championship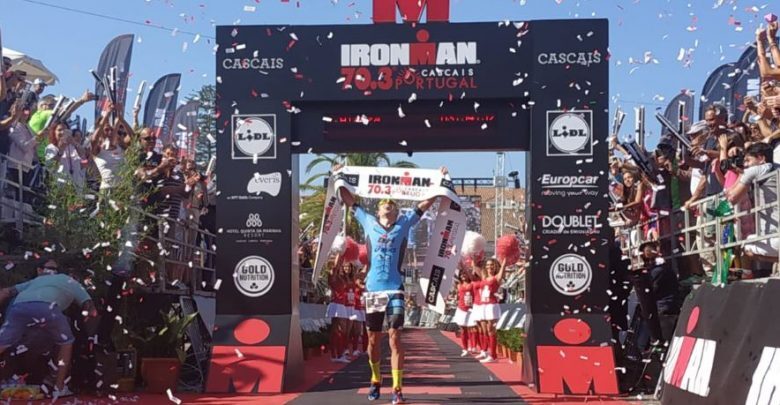 Fernando Alarza's big-time debut with a resounding victory at the Ironman 70.3 in Portugal in the town of Cascais.
This morning the second edition of the Ironman 70.3 Portugal - Cascais, a test of records, with more than 2600 triathletes and almost Spanish 450 in competition, beating all the records of Spanish participation in tests outside our territory. He Ironman 70.3 Cascais It has also been the test with more Iberian participation of the year, if we add the participation of Portuguese and Spanish triathletes.
The best Olympic distance triathletes made their big debut in Ironman 70.3 circuit events, Tim Don, Javier Gómez Noya, Iván Raña and Alistair Brownlee they did it with victory and Jan Frodeno with a second position. Fernando Alarza he did not want to be less than them and he has also climbed to the podium, to the top in the Ironman 70.3 of Cascais.
.@Fernando_Alarza sweeps the Ironman Cascais @ironman70.3portugal#triathlon #triathlete#triathlon #triatlonnoticias pic.twitter.com/R5PTQyafoH

- Triathlon News (@triatlonnoticia) 30th September 2018

The test began with the 1900 meters of swimming and with I fernado Alarza Leading from the first meters. The current runner-up of Europe put a very high pace that nobody could follow and came only to the T1, with a time of 22: 32. A 51 »was second Joao Silva and 56 » Azevedo. Fourth was Jon Unanue to 1'21 »leading a group of 8 units where I was also Miguel Angel Fildago Dani Mujica y Pakillo Fernandez-Cortés they left almost 2 ' Alarza and further back Gustavo Rodriguez y Pedro Joseph Andújar they did it over 4 '. In the T1 the talaverano again increased his advantage, made a quick transition and got on the bike with more than 1'10 »about Acevedo y Silva

Alarza I started pedaling hard and passed through the 25 km with 2 'advantage over a group of 11 units where I was Fidalgo Further back the second persecuting group was led by Gustavo Rodiguez y Pedro Andújar more than 4 '. When passing through the 68 kilometer Fernando Alarza He still led the competition, although his advantage had been reduced. Second was the French Kevin Rundstadler to 1'27 »and third was Gustavo Rodriguez almost 3 ', who had been tracing Pedro Joseph Andujar and they were less than 3 ' Alarza pulling from a large group done also was Silva and Fidalgo

In the 74,5 kilometer Fernando Alarza I was still only in the lead but the advantage was only from 24 »with the French Rundstadler and less than 2 'with Gustavo y Andujar. In the final 15km Rundstadler took the head of the test and placed leader, arriving at the T2 alone. At 1'34 »he was doing it Gustavo Rodriguez that he had also caught Alarza, who was third to 15 »from Galician. Fourth arrived Pedro Andújar to 2'18 »of the race head and fifth Acevedo to 30 »from Murcia, gave time to a group with Norris, Silva y Estrageiro among others.

The French Kevin Rundstadler began to run the 21 km of race on foot, with Alarza and Gustavo almost 2 'el. A 45 »I did Pedro Andújar and a little behind the group of Azevedo and Silva. When passing through the 5,5 km Fernando Alarza He was already leading the competition and not only had he cut the difference of 2 ′ with the Frenchman but he already took 1 ′ from him at this point. Third was the Russian Kalistratov to 2 'from Alarza, pulling a quartet where they were going Silva, Fidalgo and Azevedo.

When crossing the 10,6 kilometer Fernando Alarza had the race practically sentenced, with more of 3 'on his pursuers. In the second half of the walking segment Alarza was dedicated to control the rest of triathletes who fought for the second place and to receive the recognition of the fans who did not stop to encourage the talavera. Even so, the Spanish increased its advantage to 3'30 »in km 15,6, on a quartet formed by Norris, Azevedo, Silva and Klastratov.

Finally triumph with a lot of authority Fernando Alarza in the Ironman 70.3 de Portugal - Cascais. It joined with Ivan Raña, Victor del Corral, Eneko Llanos and Javier Gómez Noya like the five Spaniards with victories in tests of Ironman 70.3. If victory in the 70.3 of Cascais, it also had an added prize, the automatic classification for the Ironman 70.3 World Championship of Nice of 2019.

The second position was for Joan Silva and the third place for Philip Azevedo. 100% Iberian podium, with one Spanish and two Portuguese. The following Spaniards in the top10 were Gustavo Rodríguez sixth and Pedro Jose Andujaninth

Interview Fernando Alarza in goal

we interviewed @fernando_alarza after his victory in the #IM703Portugal

You are so big!!#triathlon #triathlete #triathlon #triatlonnoticias #ironman703cascais pic.twitter.com/3romnDdcAY

- Triathlon News (@triatlonnoticia) 30th September 2018

TOP 10 Ironman 70.3 Portugal - Cascais

1.- Fernando Alarza 3:54:57
2.- Joao Silva 3:57:23
3.- Filipe Azevedo 3:57:41
4.- Aleksey Kalistratov 3:57:43
5.- Colin Norris 3:57:48
6.- Gustavo Rodríguez 4:00:10
7.- Thomas Steger 4:01:42
8.- Jose Estrangeito 4:02:38
9.- Pedro Jose Andújar 4:03:23
10.- Guillaume Doree 4:04:21

As regards the female category, the victory has been for the Polish Angieszka Jerzyk with a time of 4: 26: 06 followed by the Belgian Katrien Verstuyft with 4: 27: 06 and the British Sara Lewis with 4: 30: 17

The test started with the Austrian Beatrice White coming out of the water alone with a time of 25: 19. At 1'10 »the Helene Alberdi, only Spanish PRO in the test, giving time to a quartet with the British Sara Lewis, Polish Angieszka Jerzyk and the Belgian Katrien Verstuyft.

In the 25 kilometer of the cyclist segment White still a leader but with the Polish Jerzyk just 15 »of her. A little further back to 49 »from the leader was Verstuyft already 1'37 » Lewis. Meanwhile Helene Alberdi it was fifth to 4'45 ». In the 68 kilometer Jerzyk led alone, with 1 'advantage over Wiss and 3'30 »about Verstuyft. In the final kilometers of cycling the Polish increased her advantage and reached the first transition with more than 2 minutes ahead of the Austrian Gehnböck I had traced several positions. Third era White stuck to his compatriot. Quarter Verstuyft more than 4 'and fifth Lewis almost 6.

The half marathon started just like the men, Jerzyk it went out for all and considerably increased the advantage. In the 5,5 kilometer your advantage was more than 3 'with Weiss. Mediated the segment, in the 10,5 kilometer Jerzyk remained leader, with 2'45 »about Verstuyft, who was recovering time and placed second. In the 15,6 kilometer Verstuyft had managed to trim 1 'to the Polish and was at 1'42' although the leader endured well the comeback of the Belgian.

Finally triumph in the Ironman 70.3 of Cascais for the Polish Angieszka Jerzyk with a time of 4: 26: 06. Second has been the Belgian Katrien Verstuyft with 4: 27: 16 and third the British Sara Lewis with 4: 30: 17. The only Spanish representative, Helene Alberdi has finished in seventh position

Women's Classification

1 Jerzyk, Agnieszka (POL) 04: 26: 06

2 Verstuyft, Katrien (BEL) + 01: 10

3 Lewis, Sarah (GBR) + 04: 11

4 Weiß, Beatrice (AUT) + 07: 35

5 Gehnböck, Sylvia (AUT) + 11: 49

6 Stadelmann, Sabrina (SUI) + 12: 56

7 Alberdi Sololuze, Helene (ESP) + 13: 46