The Torre del Mar Triathlon celebrates its 30th anniversary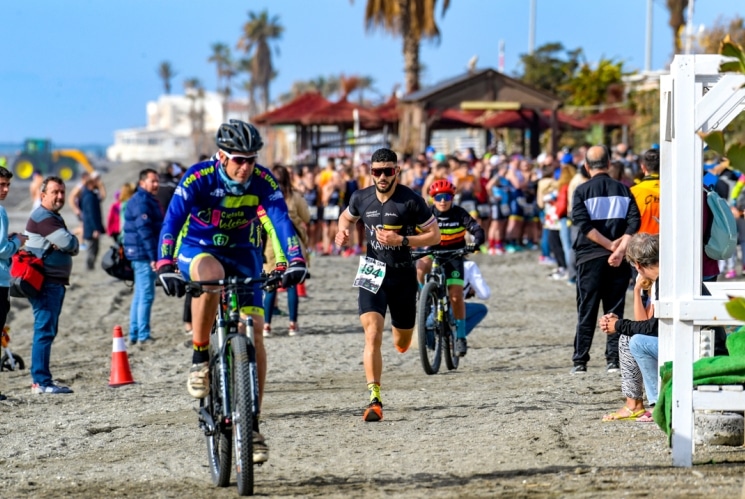 March 26 is the date on which the 30th anniversary of one of the oldest and most valued triathlons held in Spain will be celebrated: the Torre del Mar Triathlon, in Vélez-Málaga, which will bring together some 1.000 athletes.
Likewise, it is one of the first events of this type of how many are held on the European calendar.
3 distances
Among the peculiarities that make it very attractive for all types of athletes, it stands out that it is held over three distances:
Half or Media Distance (1.900 meters of swimming, 81 kilometers of cycling and 21 kilometers of running)
Olympic Distance without drafting (forbidden to go to the wheel in the cycling segment)
Sprint Distance, also without drafting.
Spectacular circuits
In addition, the spectacular route of the last edition is maintained with swimming in the Mediterranean, on the unique beach of Torre del Mar, the cycling sector in the surroundings of Vélez-Málaga and passing through towns such as Almayate, and the finish area after the foot race along the promenade.
No drafting
This triathlon maintains its commitment to the essence of this sport and does not allow triathletes to go by wheel or in a peloton during the cycling segment, Drafting not allowed, which increases its toughness and competitive interest.
A solidarity test
In addition, the test maintains its support for the solidarity project "Saca la lengua a la ALS", a non-profit entity whose purpose is to promote research into Amyotrophic Lateral Sclerosis (ALS) and improve the quality of life of all sick.
The organizing company, as in the two previous editions, is Create Creative Events Action, SL, and will have the collaboration of the Vélez-Málaga City Council, the Malaga Provincial Council and the Andalusian Triathlon Federation
Open enrollment
For federated clubs there is a discount on registrations, which are already open on the official website: www.triatlontorredelmar.es