Ana Burgos awarded with the 2011 Gold Triathlete prize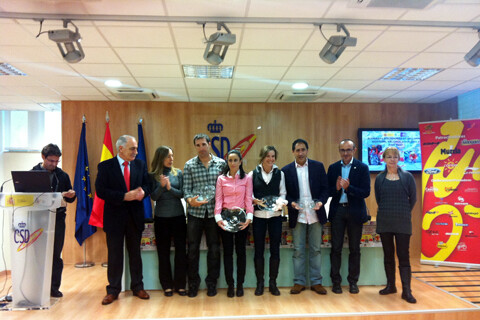 As the beginning of the "National Cycling and Triathlon Conference: values, equality and fair play", held last Sunday at the Juan Antonio Samaranch Auditorium of the Higher Sports Council of Madrid, the awards' Cyclist and Triathlete of Gold 2011 '.
In this way, two awards were given to Ana Burgos, an international benchmark triathlete who started out as a 'biker', to Rosa Bravo, a benchmark in various cycling disciplines, current Spanish road and duathlete champion, to José Antonio Escuredo , an Olympic medalist and an example for young track cyclists, as shown by currently combining his activity as a runner and as a technician, and Alberto García, an outstanding coach and teacher at the INEF.
Juan Carlos Castaño, president of the RFEC, José Hidalgo, president of the FETRI, Silvia Ferro, director of the CSD Women's and Sports Programs, Begoña Ruiz, spokesperson for the RFEC Women's Cycling Commission, and Cristina Azanza, responsible for 'Woman and triathlon' participated in this awards ceremony.
For the rest, the Conference was a complete success, with about 60 attendees, with different presentations by Mayte Leruite, from the University of Granada, Alberto García himself, Israel González, head of schools at the RFEC, by Félix García Casas and Cristina Azanza, responsible for para-cycling in both federations, and Mikel Zabala, coordinator of the 'Prevenir para Ganar' program, to end with a round table discussion.
For Zabala, "there has been a very good response but more from triathlon than cycling, and it is something that should lead us to reflection when it has been disseminated with time and presence has been facilitated. In any case, the participation has been important and the attendees have been very active and interested "