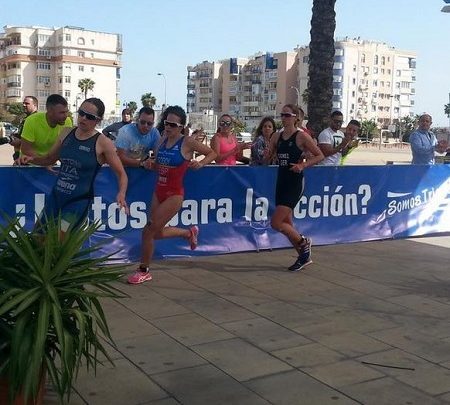 Sara Bonilla has achieved the fifth place and Melina Alonso the seventh position
Today in the town of Melilla the Triathlon European Cup has been played where Marlene Gómez got the victory with a final time of 2: 11: 06. In second place has entered the Spanish Anna Godoy (2: 11: 14) and completing the podium Elena Petrini in third position.
In swimming the first to leave the water were the Spanish Anna Godoy followed by Marta Sánchez and Ksenia Levoskva in third position. On the bike from the first moment a group of head was formed with Godoy, Sanchez, Levoskva, the Italian Papais and Petrini and the one that finally would be winner of the Marlene Gomez test. Coming to the last lap with a group of five since Marta suffered a puncture, surpassing the pursuer group in almost a minuet and a half.
The sector of the race on foot was exciting until the end, as a quartet was formed in the lead with Godoy, Petrini, Papais and Gomez until in the last meters the German attacked leaving alone reaching the finish line with 8 seconds ahead of Anna Godoy
Highlight the great performance of Sara Bonilla that has achieved the fifth place after suffering a fall in bike and Melina Alonso reaching the seventh final position

* provisional results
Photo: FETRI