Antonio Serrat finishes 7th in the Triathlon World Ranking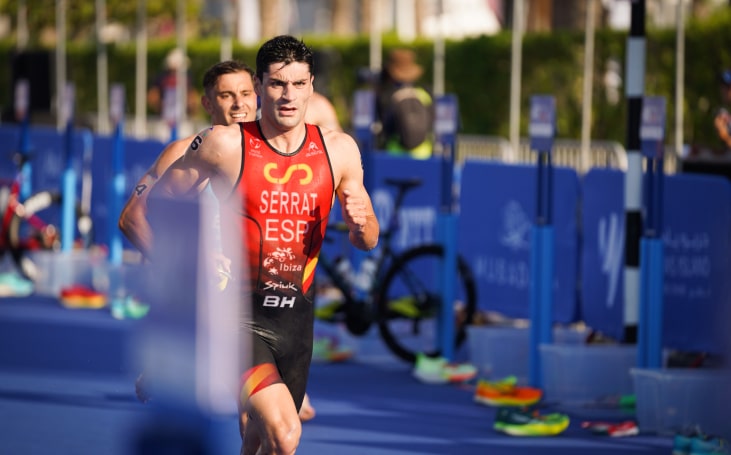 The World Series came to an end in Abu Dhabi, putting an end to an atypical season that began in 2021 and ends in 2022.
In the final ranking of the World Series the best Spaniard has been Antonio Serrat finishing in the 7th position of the final classification, and with Roberto Sánchez Mantecón in the 20th position.
You can check in the following link the complete ranking
The best of the Triarmada was the young Murcian triathlete Sergio Baxter, who without reaching 100% physically and gave up fighting yesterday for the under 23 world title came out with the best in the world willing to fight for points for the Olympic ranking.
His 15th place at the finish line, beating the Italian Sarzilla and the American Rider in the sprint.
An unforgettable season for Sergio Baxter, who achieved his first victory in a World Cup in Pontevedra a few months ago and finished in the top 15 in his first Grand Final played.
after him came David Castro in the 25th position. The Roda triathlete completed a great first swimming segment, coming out in 5th place and in the leading group.
The rest of the Triarmada was reaching the finish line reflecting like the rest of the triathletes the suffering of the competition due to the suffocating heat in Abu Dhabi, with Antonio Serrat in the 37th position.
The Galician did not reach Abu Dhabi at 100% either due to a fall suffered on a bike two weeks ago and which almost prevented him from leaving.
the balearic Mario Mola He then entered the 39th position and signed the 10th best partial on foot, continuing his return to the highest level in which he has been working since this season.
And finally the Valencian Roberto Sánchez Mantecón He finished 47th, but ensuring his final 20th place in the general classification.
Men's Elite – World Series Grand Final / Abu Dhabi
15th Baxter
25th David Castro
37th Antonio Serrat
39th Mario Mola
45th Roberto Sanchez