Aquaman, New wetsuits for FETRI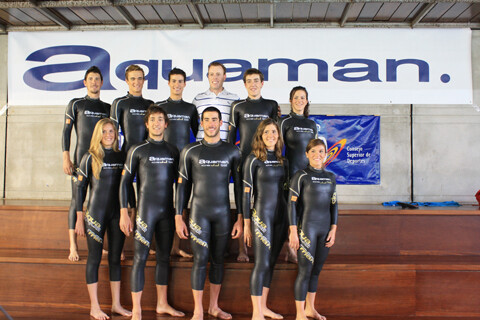 Last Tuesday, March 29, the official presentation of AQUAMAN, sponsor of the Spanish Triathlon Federation, was made at the facilities of the High Performance Center (CAR), Madrid. Some of the triathletes of the Spanish Triathlon Team, Mario Mola, Fernando Alarza and Zuriñe Rodríguez, among others, are awarded scholarships in these facilities.
The appointment was attended by Jose Hidalgo, President of the Spanish Triathlon Federation, Alicia García, FETRI General Secretary, Juan Rodríguez, FETRI Technical Director and Oscar Monteverde representing the prestigious AQUAMAN wetsuit brand, among others.
During the event, the Wetsuits were delivered to the triathletes, the model chosen for the official kit was "CellGold", a Neoprene suit made of 100% Yamamoto Giga 40, which has a fabric that provides more flexibility and better buoyancy due to to the special gases used in its manufacture. In addition, it offers an incredible and reduced total weight of the suit.
Cellman by Aquaman incorporates inside the exclusive technology used in MetalCell for optimal gliding when putting on or taking off the suit, and it fits the body like a second skin.
Juan Rodríguez, Technical Director, made the official presentation of AQUAMAN to the triathletes, among his words he wanted to thank the sponsor for giving the opportunity for our athletes to wear a brand of recognized prestige in their competitions such as AQUAMAN.
For José Hidalgo, President of FETRI, having the support of a committed brand and leader in the sector is an opportunity to compete with a high guarantee of quality in equipment. On the other hand, he had words of support and thanks to the triathletes, wishing everyone luck in this new season that begins.
Alicia García, FETRI General Secretary, who was part of the Technical Management team for several years and has been, in turn, Triathlete and Swimmer, recalled her first wetsuit, of the AQUAMAN brand. For Alicia García, being able to count on a garment with many years of experience and recognized prestige in the world of swimming and triathlon, which continually works in the research and development of new products, is an opportunity for our triathletes to participate in the tests with a high quality kit.
Oscar Monteverde, representing the AQUAMAN brand, had words of thanks to the Spanish Triathlon Federation, for the dedication and ease of collaboration between the two. He made an explanation about the advances in the development of the tissues and asked the Triathletes for a commitment when transmitting their feelings in competition with this High-end "CellGold" Neoprene.
We all wish that this year, thanks to the team of triathletes we have and sponsors who offer us high-quality equipment, come full of great successes.