Calendar cycling tours in Spain 2023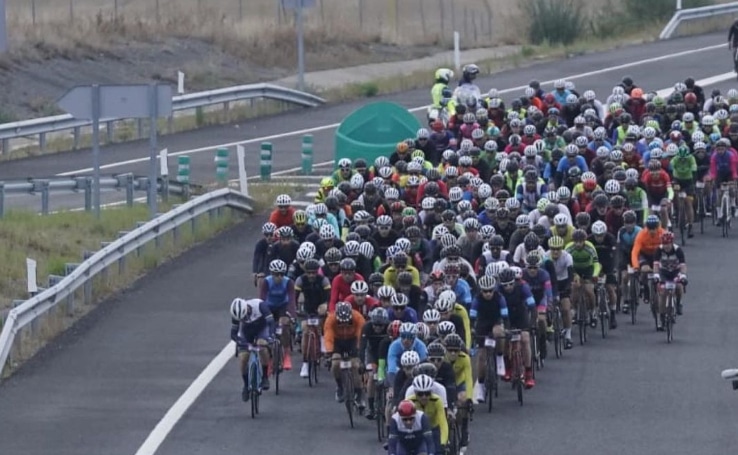 The year has already begun and it is time to go looking for competitions and goals for the whole season.
A fun way to train and enjoy cycling are the cyclists, where thousands of cyclists participate throughout the national territory.
That is why we have compiled the most important tests in Spain so that you can choose the one that best suits your needs.
This is the schedule for 2023.
Spain 2023 cycle touring calendar
Competition
Site
Date
Price (min-max)
Distance
Accumulated Unevenness (D+)

February

Epic Gran Canaria
Las Palmas
10-12 /02/2023
€ 55 - € 95
75K, 115K, 190K
460m, 810m, 1270m

March

Bilbao–Bilbao
Biscay
19 / 03 / 2023
€ 25 - € 30
85K, 115K, 125K
800m, 1200m, 1800m
Grand Fund Calella
Barcelona
19 / 03 / 2023
€ 50 - € 59
82K, 102K, 140K
1200m, 1900m, 2700m
Montanejos Cycle Sports
Castellón
25 / 03 / 2023
€ 39 - € 56
135K
2600m
Garraf-Penedès Experience Cycle
Barcelona
25 / 03 / 2023
€55
95K, 148K
1200m, 2200m
Cycling tour Amer – Sant Martí Sacalm
Gerona
26 / 03 / 2023
€ 35 - € 50
131K, 139K
2200m, 2800m
Challenge 132 Muchante Navarra
Navarre
26 / 03 / 2023
€ 32 - € 37
132K
1500m

April

Castro – Castro Cycle Sports March
Cantabria
1 /04/2023 (Pending)
€ 30 - € 46
96K
1741m
VI ALE Cycling Gandia
Valencia
16 / 04 / 2023
€ 50 - € 60
122K
1700m
Great Fund Lloret Costa Brava
Gerona
16 / 04 / 2023
€ 49 - € 60
90K, 160K
1400m, 2700m
Ourense Thermal Strade
Orense
16 / 04 / 2023
€ 29 - € 49
75K, 118K
2000m
Mussara Reus
Tarragona
16 / 04 / 2023
€ 64 - € 84
95K, 135K, 188K
1800m, 2500m, 3400m
10 Peaks Sierra de Espadán
Castellón
19 / 04 / 2023
€ 50 - € 56
79K, 138K
1900m, 3048m
La Gamba Cycle Sports March
Valencia
23 /04/2023 (Pending)
€ 45 - € 48
132K
2360m
Mallorca 312
Balearic Islands
29 / 04 / 2023
€ 100 - € 112
167K, 225K, 312K
2475m, 3943m, 5050m
Great International Fund March City of Valencia
Valencia
30 / 04 / 2023
€ 71 - € 81
76K, 105K, 190K
648m, 1313m, 2803m

May

Great fund Guad al Xenil
Granada
6 / 05 / 2023
€ 45 - € 55
147K
3925m
Mediterranean Epic Gran Fondo Oropesa del Mar
Castellón
6 / 05 / 2023
€ 59 - € 69
110K, 208K
1700m, 3600m
Legbreaker Sos del Rey Católico
Zaragoza
6 / 05 / 2023
€ 45 - € 55
47K, 96K, 140K, 190K
1500m, 2200m, 3000m
Tour of Teide Gran Fondo Tenerife Canary Islands
Santa Cruz de Tenerife
6 / 05 / 2023
€ 45 - € 65
95K, 175K
2000m, 4400m
The Cantabrona 2023
The Cantabrona
6 / 05 / 2023
€ 40 - € 56
110K, 170K
1620m, 3394m
NOR3XTREM – Cycle Sports Walk
Caceres
7 / 05 / 2023
€ 45 - € 65
119K, 172K
2450m, 3810m
Donostia-Baiona-Donostia
Guipúzcoa
13 / 05 / 2023
€ 40 - € 50
82K, 123K
1800m, 2000m
Castle Road
Valencia
13 /05/2023 (Pending)
€ 25 - € 35
158K
2670m
Challenge Ports of Guadarrama La Vuelta
Madrid
14 /05/2023 (Pending)
€ 60 - € 80
77K, 158K
850m, 2350m
Cabrales Cyclotourist – Ascent to Sotres
Asturias
14 /05/2023 (Pending)
€ 18 - € 36
71K
1839m
Challenge Ports of Guadarrama La Vuelta
Asturias
14 /05/2023 (Pending)
€ 50 - € 72
160K
2350m
The Remences Sant Esteve Girona
Gerona
14 / 05 / 2023
€ 35 - € 70
100K, 175K
1280m, 2600m
Titan Villuercas Road
Caceres
14 /05/2023 (Pending)
€ 50 - € 56
97K, 138K, 179K, 215K
2100m, 2700m, 3400m, 4200m
Rioja and Pedal Ashtray
The Rioja
19-21 /05/2023
€ 17 - € 27
74K, 81K
957m, 1338m
Great Fund Camp de Morvedre
Valencia
20 / 05 / 2023
€ 55 - € 65
75K, 158K
400m, 1800m
Montsec–Montsec
Lleida
20 / 05 / 2023
€ 35 - € 40
80K, 140K, 190K
1300m, 2050m, 3300m
The 4 Peaks | Sports Cycle March
Almería
20 /05/2023 (Pending)
€ 30 - € 35
160K
4000m
The Ports of the Maresme
Barcelona
21 / 05 / 2023
€ 50 - € 60
96K, 147K
1800m, 2700m
March Bedelalsa Béjar
Salamanca
21 / 05 / 2023
€ 45 - € 55
133K, 154K
2400m, 3200m
Orbea Klasika Bilbao Bizkaia 2023
Biscay
21 /05/2023 (Pending)
€ 50 - € 69
138K
2900m
Sierras de Moratalla Moratalla Murcia
Murcia
21 /05/2023 (Pending)
€ 40 - € 50
100k, 172k
1400m, 2600m
The Sierra de Cazorla Grand Fund
Jaén
27 /05/2023 (Pending)
€ 42 - € 52
144K
2075m
Cubilla Pola de Lena Cyclotourist
Asturias
27 / 05 / 2023
€ 35 - € 47
101K
2500m
March Sport Bike Sierra del Segura Molinicos
Albacete
28 /05/2023 (Pending)
€ 50 - € 55
85K, 133K
1600m, 2200m

June

The Chainbreaker Valencia
Valencia
3 June
€ 40 - € 50
124.8K
1870m
The Indomitable Cycling Tour
Almería
3 June
€ 50 - € 60
117K, 197K
2800m, 4000m
The 10.000 of Soplao
Cantabria
3 June
€ 65 - € 85
160K
3030m
Marxa Cycle Tourist Ciutat de Benicarló
Castellón
3 June
€ 50 - € 60
112K, 201K
1282m, 3000m
March Aitana Tour
Alicante
4 June
€ 55 - € 65
145K
2840m
Great Fund BIBE Transbizkaia
Biscay
4 June
€ 63 - € 71
122K, 179K
2445m, 3500m
Hispanic Eroica Haro La Rioja
The Rioja
4 June
€ 58 - € 100
74K, 122K, 184K
960m, 1655m, 3067m
ROTOR Sierra Norte
Madrid
June 4 (Pending)
€ 50 - € 115
84K, 143K
1634m, 2835m
March 3 nations (Spain, France, Andorra)
Gerona
10 June
€ 65 - € 80
140K
2400m
Juanma Garate Cycling Tour of Irun
Guipúzcoa
June 11 (Pending)
X
72K, 122K
1245m, 2480m
Menasalbas – Montes de Toledo cycling tour
Toledo
June 11 (Pending)
€ 40 - € 45
107K, 158K
1500m, 2400m
Oiz Erronka-Jabi Amorrortu Martxa Challenge
Biscay
17 June
€ 35 - € 40
128K, 164K
2190m, 3120m
Bearded Vulture and Wallcreeper Sabiñánigo
Huesca
17 June
€ 65 - € 93
85K, 200K
1900m, 3500m
Cycling Tour Vitoria BH
alava
24 June
€ 48 - € 68
100K, 180K
1150m, 2900m

July

Grand Fondo Pyrenees
Gerona
2 / 05 / 2023
€ 50 - € 59
22K, 72K, 122K
1220m, 1600m, 2400m
The Stage Madrid
Madrid
2 / 05 / 2023
(Slope)
€ 49 - € 74
112K, 162K
1939m, 2977m
Cyclotourist of La Rioja Logroño
The Rioja
9 / 05 / 2023
€ 35 - € 40
148K
1423m
Great Ézaro Fund
La Coruna
9 / 05 / 2023
(Slope)
X
85K, 151K
1949m, 2883m
4 Cims | Bagà
Barcelona
9 / 05 / 2023
(Slope)
€ 49 - € 59
162K
3700m
Lagunas de Neila Cycling Tour
Burgos
16 / 05 / 2023
(Slope)
€ 40 - € 52
160K
2600m
The Indurain Villaba Atarrabia
Navarre
22 / 05 / 2023
(Slope)
€ 49 - € 79
180K
3100m
Vielha Cycling Tour – Aran Valley
Lleida
22 / 05 / 2023
€ 60 - € 65
90K, 151K
2680m, 3700m
The Luarca Sacagueyo
Asturias
22 / 05 / 2023
(Slope)
X
115K
2400m
Sotosalbos Cycling Tour
Segovia
23 / 05 / 2023
(Slope)
€ 38 - € 50
133K
2325m
24h CycloCircuit – Cheste Circuit
Valencia
29-30 /05/2023 (Pending)
€ 32 - € 135
80K, 200K, 12H, 24H
X
Cycling Tour Cantabria – Vega de Pas
Cantabria
30 /05/2023 (Pending)
X
128K
3200m

August

La Purito Andorra
Andorra
6 /08/2023 (Pending)
€ 55 - € 75
30K, 80K, 115K
1700m, 3500m, 4800m
Classic Ports of Somiedo
Asturias
19 /08/2023 (Pending)
€ 35 - € 53
120K
3300m
March Pedro Delgado – Segovia
Segovia
20 / 08 / 2023
€ 60 - € 82
119K, 164K
2100m, 3200m

September

Gran Fondo Larra Larrau Isaba
Navarre
9 / 09 / 2023
€ 56 - € 75
114K, 146K
2600m, 3780m
Volcano Great Bottom
La Palma
10 / 09 / 2023
X
50K,75K,128K
1100m, 1900m, 3400m
Lebaniega Jubilar Bike
Cantabria
16 / 09 / 2023
(Slope)
€ 35 - € 51
108K, 146K
2400m, 3500m
Classic Los Puertos Esmeralda – Nava
Asturias
17 / 09 / 2023
€ 40 - € 50
110K
1600m
Ale Ribeira Sacra – Luintra
Orense
23 / 09 / 2023
(Slope)
€ 39 - € 59
65K, 100K, 115K
1400m, 2200m, 2800m
Great Fund Alberto Contador
Valencia
24 / 09 / 2023
(Slope)
€ 50 - € 65
111K, 162K
1900m, 3000m
Adolfo Alperi Cycling Tour – Oviedo
Oviedo
24 / 09 / 2023
(Slope)
€ 20 - € 32
82K
1500m
Maestrazgo Cantavieja Cyclotourist
Teruel
24 / 09 / 2023
(Slope)
X
83K
1600m
Great Fund La Falla
Lleida
25 / 09 / 2023
(Slope)
€ 49 - € 62
49K, 107K, 136K
1428m, 2235m, 3086m

October

Great Fund Costa del Sol
Málaga
1 / 10 / 2023
(Slope)
€ 40 - € 50
130K
3500m
Pelegri Pi Memorial
Barcelona
2 / 10 / 2023
(Slope)
X
80K, 94K
1200m, 1784m
The Stage Granada
Granada
22 / 10 / 2023
€ 49 - € 74
131K, 176K
2000m, 2600m