Galicia clear winner in the Spanish Duathlon Championship by Autonomies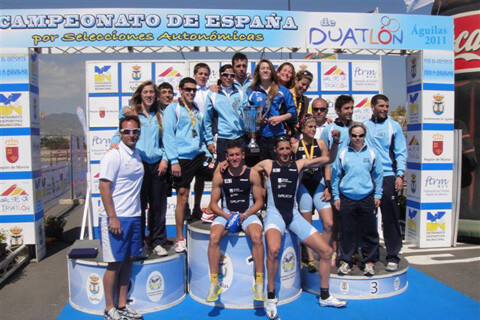 This weekend the Duathlon Championship by Autonomies was held in Águilas, where only one autonomy shone, Galicia, the others tried to overshadow it but failed to snatch it 1st place in the two categories.
Galicia won the women's event with Saleta Castro, Estefanía Domínguez, Camila Alonso, Melina Alonso, Agnes Eppers, Marta Jiménez, Noelia Mora and Belén Lemat.
At all times they were ahead with the trick of Marta Jiménez 2nd in the test as their best asset.
While the men's team formed by Jesus Gomar, Roberto Barral, Gustavo Rodriguez, Iván Cáceres, Uxio Abuin, Nicolás Domínguez and Brais Canosa achieved the second victory of the day.
And the "hack trick" came with the logical victory of the joint classification and proclaiming itself as the best autonomy of 2011 in the Duathlon modality.
The final classification by autonomy was the following:
1th GALICIA 2594
2nd MADRID 2411
3rd ANDALUCIA 1993
4th CATALONIA 1823
5th CASTILE AND LEON 1731
6th EUSKADI 1685
7th CASTILLA LA MANCHA 1670
8th NAVARRE 1505
9th EXTREMADURA 1476
10th MURCIA 1467
11th VALENCIA 1444
12th ASTURIAS 1346
13th CANTABRIA 974
14th MELILLA 451
15th LA RIOJA 160
more information on www.triaton.org