Triathlon News
MallorcaTraining Triathlon and Triathlon Clavería Móstoles Spanish Champions of Duathlon Team Time Trial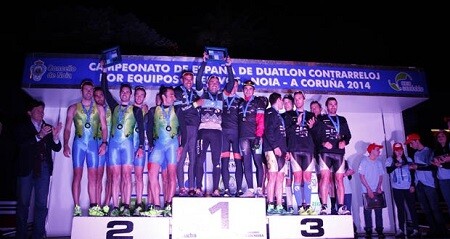 The streets of Noia were filled yesterday 22 of March of pure duathlon, companionship and overcoming in an intense day that offered spectacle and great surprises. After more than five and a half hours and about 700 duatletas, they filled the town of Coruña with color.
After an exciting fight between all the teams in the field, the Triathlon Clavería Móstoles in females and the MallorcaTraining Triathlon Team-M3T Champions of Spain against Team Time Duathlon were proclaimed. The weather offered great contrasts, going from sunny moments to very heavy rains and wind.
The podium of the female elite was composed of the Triathlon Clavería Móstoles in first position, the second place went to the Rivas Diablillos Triathlon Club and the bronze for Tragaleguas.org.
The big surprise of the date came with the male elite, with the triumph of the MallorcaTraining Triathlon Team-M3T. While the Valencians of Tragaleguas.org they took second place on the podium and the winners of the 2013 edition, the components of the IMD Segovia Triathlon Club, they were back on the podium taking this time, the bronze medal.
In the School Championship, the girls of Saltoki Trikideak they took the gold, followed by the Triathlon Consult Sergio Sáiz and in third place on the podium, it was for the CT Devils of Rivas. In turn, the components of the male team of Rivas the gold medal was hung, with the Tripuçol awarding the silver and the Ecosport Alcobendas Triathlon He signed the bronze medal. As a whole, the young promises of our sport gave us great performances throughout this exciting championship.
As for the Open competition, in girls the victory was for team B of the Marlins Triathlon Madrid. The second place on the podium was occupied by the members of the CD Atalanta - B and the bronze fell to the Next to them, in the men's event two of the teams presented by the CT Diablillos occupied the positions of honor, with the team C obtaining the victory and his teammates in team B the silver medal. The bronze was hung by the Tri-Val Triathlon Valdemoro Club.
A brilliant event that has passed through the center of the city with luxury scenarios. Tomorrow comes the turn for the debut of the Spanish Duathlon Championship by Relay.
FETRI