Carolina Routier Top-10 at the Stockholm World Series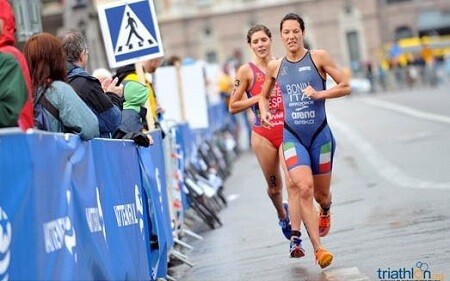 This is his best result so far in the World Series
The victory has been for Sarah Groff, followed by Andrea Hewitt y Nicky Samuels that the podium positions were disputed in a tight sprint
A splendid Carolina Routier has struggled with fury in Swedish lands to take a prominent tenth place in the World Series. A remarkable classification for the Spanish, which today has played a great role on a hard circuit in Stockholm.
The women's competition started with better weather conditions than in the male test, and with a Carolina Routier starring again the swimming segment. The triathlete, great specialist in the water, stood out again during the swim 750 to lead, followed very closely by the British Lucy Hall and the American Sarah Groff.
After passing through the first transition, the American Groff took the lead at the start of the 20 km cyclists. In a prominent second position marched the Spanish Routier, followed by eight other triathletes. After the first of the five laps of the course, a group of 11 took control of the competition. Behind, a first pursuer group of 18 triathletes, integrated among others by Ainhoa ​​Murua, tried to cut distances, and already relegated the third Spanish at the helm, Maria Ortega circulated in a second block pursuer.
The leaders would expand their advantage throughout the cycling section, to finally enter T2 with an income of more than one minute. By now, the rain had made an appearance again and the triathletes faced an end of the cycling segment and the foot race under harsh conditions. After leaving the bike, Groff was the fastest at the exit of T2. and together with her compatriot Lindsey Jerdonek, she achieved a small initial gap that would allow her to distance herself from other very powerful rivals in this final sector of the foot race.
For his part, Routier left T2 well positioned in seventh place; while Murua would arrive in the first chasing platoon with a disadvantage over the leaders that was around two minutes and Ortega remained in positions more behind.
While the American duo was established in the lead, Canada's Kirsten Sweetland and New Zealand's Andrea Hewitt, Nicky Samuels were trying to hunt them down. For its part, a brave Routier struggled in the first positions, ranking ninth at the end of the first of the two laps of the sector.
Groff would not give up the lead to clinch his first World Series triumph, reaching the finish line with a margin of just four seconds over second-placed Hewitt. Previously, Jernonek had been overtaken by a chasing trio that would maintain a tough duel for the podium. Finally, in a disputed sprint a few meters from the finish line, Hewitt managed to get in second place, while his compatriot Samuels was hung the bronze medal.
For its part, after a sensational competition, Carolina Routier obtained the tenth place, reaping its best result so far in the World Series. In 35º place went Ainhoa ​​Murua after working hard in the pursuit platoon and María Ortega it was classified in 47ª position; all of them adding valuable points in the ranking.
Photo: Janos M. Schmitd / ITU Media