Cidade de Lugo Fluvial Mixed Relay Champion of Spain
Today the Mixed Relay Championship of Spain was held in Banyoles, with victory for the Cidade de Lugo Fluvial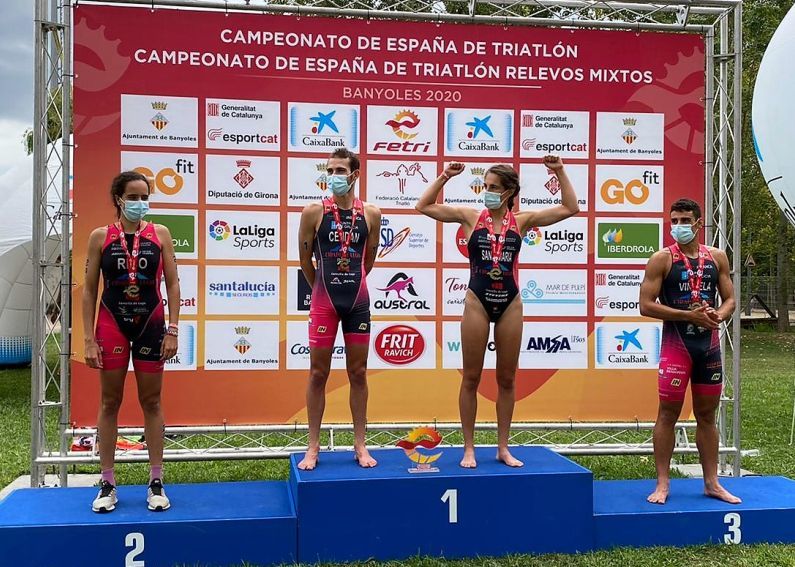 The last of the day's competitions, the Spanish Mixed Relay Championship Elite, had 32 teams consisting of two men and two women
Each of them has completed a 250 meter swim, 6,6 kilometer bike and 1,6 kilometer run before taking the relay with the next teammate.
The relays were carried out as each triathlete reached the counter goal at the end of the race on foot, without there being contact with the member of his team who then began the swimming section.
At the end of the first relay, the first three teams were the AD Náutico de Narón, the FastTriatlon - CN Montjuïc and the Cidade de Lugo Fluvial.
Things changed in the second relay where the Saltoki Trikideak, Cidade de Lugo Fluvial and Prat Triatló 1994 teams took the lead.
In the third relay, which gave way to the last competitors, the clubs that led the competition were the Cidade de Lugo, the Fast Triathlon - CN Montjuïc and the AD Náutico de Narón.
And in the last transition, from bicycle to foot race of the fourth relay, the Cidade de Lugo was outstanding in the lead, with the Fast Triathlon and the Saltoki Trikideak behind.
These positions have been held to the end, with the Cidade de Lugo as first classified with a total time of 1h29'55".
The winning team was made up of María Rico, Andrés Cendán, Cecilia Santamaría and Kevin Tarek Viñuela.
El Fast Triathlon - CN Montjuïc, for his part, he competed with Anna Flaquer, Arnau Montiel, Helena Moragas and Andrés Díaz, and classified in second place, with a timer of 1h20'14".
In third position, the Navarrese Saltoki Trikideak, who has competed with Iratxe Arenal, Ander Noain, Laura Duran and Mike Ibergallartu, and who set a time of 1h20'34".