Spain wins four medals at the Paratriathlon World Cup in Australia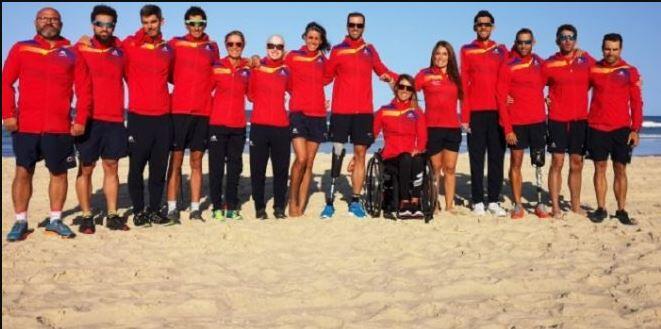 Dani Molina and Susana Rodríguez with their guide Paula García won the gold, Alex Sánchez silver and Héctor Catalá the bronze
According to the informaciondeporte web, the Spanish paratriathlon team has finished the Gold Coast World (Australia) with a loot of four medals -Dani Molina and Susana Rodríguez with their guide Paula García won the gold, Alex Sánchez silver and Héctor Catalá the bronze- confirming their progression towards the Sets Tokyo 2020.
The tandem formed by the Galician Susana Rodríguez and your guide Paula García He dominated the test from the beginning in his PTVI category of visually impaired or partial disabled people and did not have great problems to win the gold medal. Behind the British remained Patrick Alison and the Australian Katie Kelly.
The Madrilenian Daniel Molina, who will not be in Tokyo 2020 when his category (PTS3) is not included in the competitive program, he revalidated the world championship with a leadership lesson, while his partner, the Extremadura 'Kini 'Carrasco, finished sixth.
Silver and bronze
The Salamanca Alejandro Sánchez Palomero He arrived in Australia after the setback suffered in the last European Championship in Tartu (Estonia), where he was out of the medals for only ten seconds. This time, his work and luck accompanied him and he finished in second position to hang the silver in the PTS4 category of physicists, which will premiere at Tokyo 2020. The gold was taken by the Frenchman Alexis Hanquinquant
The last Spanish medal was in the male PTVI class with the tandem formed by Héctor Catalá and your guide Gustavo Rodríguez, who achieved the bronze and were very close to the silver. The other Spanish tandem formed by José Luis García and your guide Ángel Salamanca He also caressed the podium with a fourth place.
Bad luck Jairo
Luck was elusive to Jairo Ruiz, bronze medalist in the Rio 2016 Games and who came in a great moment of form to Australia. The Almerian stayed at 28 seconds of the bronze that took the British George Peasgood and that prevented him from repeating a podium to which he usually climbs.
In the PTS2 category, the vizcaya Rakel Mateo Fifth finished his test, while the Canary Lionel Morales He was removed from the podium with a sixth place.
The Madrilenian Eva Moral, Excited to know that she will be able to be in Tokyo 2020, she could not revalidate the bronzes of 2016 and 2017 and finished sixth in the PTWC category of wheelchair athletes.
Source: Practicodeporte / Photo FETRI