Diego Paz the best of the Spaniards in the Junior European of Pontevedra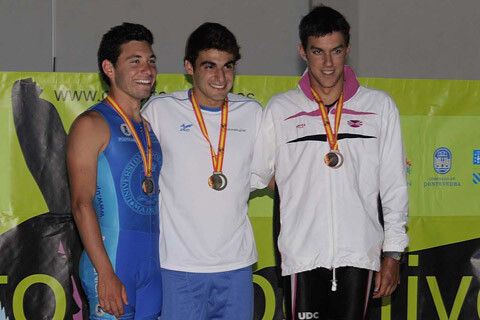 DIEGO PAZ WAS THE BEST OF THE SPANISH IN THE EUROPEAN TRIATHLON JUNIOR
The Galician was in the fight with the leading group in cycling and finished 21st
The German Justus Nieschlag was proclaimed this afternoon junior European champion in a race marked by the group of more than 30 triathletes who got off the bike together. The German - with a time of 59:09 - surpassed both Belgian Geens and Italian Steinwandter in sprint, second and third respectively.
Nieschlag commented that "it benefited me that the cycling sector was steep, I liked the circuit".
Regarding the Spanish performance, Diego Paz was the most outstanding when he finished in 21st position. The Ponteareano regretted that the chasing group in the cycling segment ended up catching them because "if the second group does not catch us, they would be among the top 15 ". Anyway, the current bronze in the Junior Cross World Championship was satisfied with the result although "I could run better".
With him, Genis Grau –24º, Jordi García –28º, Roberto Barral, 35º and David Castro crossed the finish line, who finished with 44º position.
| | | | | |
| --- | --- | --- | --- | --- |
| 1 | Nieschlag | Justus | GER | 00:59:09 |
| 2 | Geens | Jelle | BEL | 00:59:11 |
| 3 | Steinwandter | Matthias | ITA | 00:59:14 |
| 4 | Debar | Martin | CZE | 00:59:16 |
| 5 | MONTOYA | Raphael | FRA | 00:59:22 |
| 6 | Elischer | Renning | GER | 00:59:28 |
| 7 | Stateff | Delian | ITA | 00:59:29 |
| 8 | Viain | Simon | FRA | 00:59:39 |
| 9 | Blummenfelt | Kristian | NOR | 00:59:42 |
| 10 | Haller | Bob | LUX | 00:59:46 |
Source: FETRI