Triathlon News
Two medium distance tests at the Korona Madrid circuit: Aranjuez and Ecotrimad
The Korona Triathlon is a circuit of 5 tests that takes place in the Community of Madrid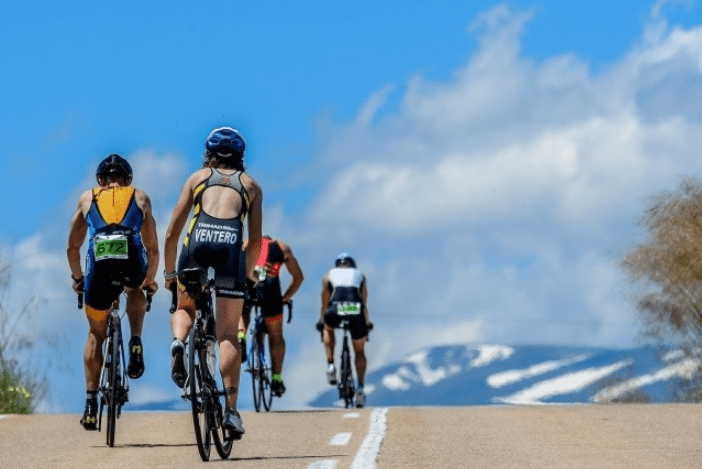 El Korona Madrid Triathlon It is a circuit of 5 tests that is disputed in the Community of Madrid.
The circuit consists of time trial races by road and crossover duathlon teams, an MD duathlon and sprint triathlons, Olympic triathlons and two medium distance races: Aranjuez and Ecotrimad
MD Aranjuez Triathlon
The second edition of the Aranjuez Medium Distance Triathlon It will be held on May 10, in a privileged environment since the race runs through the prince's gardens.
It will also be Championship of Madrid and it will have only 450 seats.
Their distances are 1.900 meters of swimming, 85 km of cycling and 21 km of running on foot.
The circuits:
The swimming will be one lap, the 85 km bicycle route (19 km link + TWO 24 km laps + 19 km link) will leave Aranjuez through a cycle-enabled lane that will be cut to traffic at all times. The 24 kms ring has 2 ups and downs of about 6 kms each
The race is completely flat leaving for the Historical Groves and then entering the Jardines del Principe.
Ecotrimad
In June it will be the turn of one of the classics of the Madrid triathlon, the Ecotrimad of, Buitrago de Lozoya that in 2020 turns 10 years old.
In addition to the middle distance, the test will have distances with sprint and olympic
The distance is: 1.900 meters of swimming, 74 km of cycling and 20 km of running on foot)
The circuits
Swimming will be one lap in the Lozoya river
The bicycle route is 74 km. (two turns of 37km.). with a cumulative rise in elevation of 1.150 meters approx, with continuous slides
The race has 50% asphalt and another 50% on hard dirt tracks running through the wall of the Riosequillo dam
Middle distance duathlon
We do not want to leave out, a test that long distance lovers may find interesting, a mid-distance duathlon in the Jarama Duathlon
Everything will be located on the M111 road, which is a two-lane highway + hard shoulder in each direction. This highway will be 100% cut to traffic.
The competition consists of 2 average and Olympic distances:
HALF DISTANCE KMS: 15 - 60 - 7´5.
Two initial laps of race + 4 laps of cycling of 15 kms + 1 lap of 7,5 kms running to finish.
OLYMPIC DISTANCE KMS: 10 - 45 - 5.
Two initial laps of race + 3 laps of cycling of 15 kms + 1 lap of 5 kms running to finish.
Korona Madrid Trialton Calendar
| | | |
| --- | --- | --- |
| Test | Date | Format |
| Ecodumad Cros | February 15 | Duathlon Cros, |
| Jarama Duathlon | 8 March | MD Duathlon, Olympic Duathlon |
| Ecodumad Road | 15 March | Duathlon Team Time Trial |
| Aranjuez Medium Distance Triathlon | May 10 | Medium Distance Triathlon |
| Ecotrimad | 13-14 June | Medium Distance Triathlon, Olympic, Sprint |
More information: koronamadrid.com