Ducross presents a new triathlon format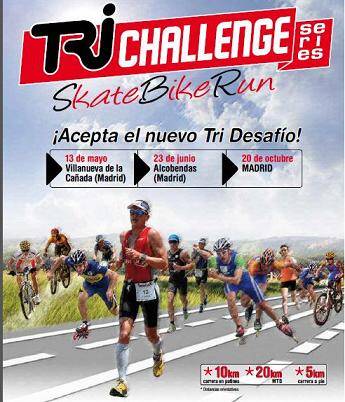 DuCross, one of the best cross duathlon circuits held in Spain, gives life to a new triathlon format: tri CHALLENGE Series Skate-Bike-Run, in which the first swimming segment is replaced by rollerblading: skating + cycling (mtb) + race.
With this, DuCross offers an original alternative for triathletes, skaters, cyclists, runners ... athletes in general. Open to participants of any level, who have skates and a mountain bike.
One attraction of Tri Challenge On a competitive level, it is that the skaters will try to get a good advantage in the first segment while those who are more cyclists and runners will try to overcome in their specialties, which will create a very motivating environment. And of course, the motivation will also be very great for the most popular athletes whose main objective is to be able to finish, to be "finishers" in a Tri Challenge.
In this year 2012, there will be three Tri Challenge events to be held, all in the Community of Madrid: on May 13 in Villanueva de la Cañada, on June 23 in Alcobendas and on October 20 in Madrid capital.
All the information, regulations and registrations are already available at: www.ducrosseries.es