Triathlon News
The Artiem Half Menorca opens registrations.
The competition will feature 2 distances, Half and Short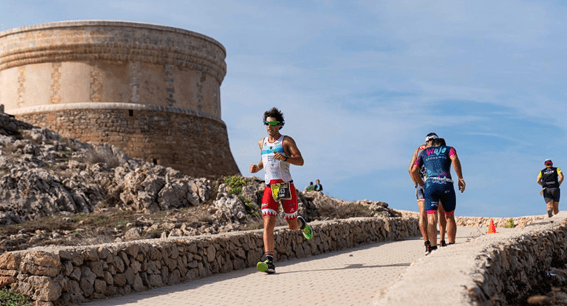 Registrations for a new edition of the Artiem Half Menorca, a medium distance triathlon on the island of Menorca, which takes place in the town of Fornels.
Fornells It is a fishing village located in the north of the island, it has a beautiful traditional port and a large bay more than 3 kilometers long where swimming takes place.
The test will be disputed andl September 20, 2020 and from today the registration process is already open at your two distances.
Two distances to participate
The test offers triathletes two distances to participate, the Short and the middle distance queen test.
Half: 1.900, 90 km, 21 km
Short: 1.000, 34 km, 9 km
Swimming:
Swimming takes place in the famous Fornells bay, well known on the island and which is practically closed, protected from the waves, making it ideal for swimming in a competition like this.
Cycling:
The cycling segment, in the middle distance, will be a 3-kilometer 27-lap circuit completely closed to traffic.
It will have an ascent with a maximum slope of 9,6% and a cumulative drop of 1.275 meters,
Race on foot:
As for the foot race segment, it will be very fast, although it will have 3 ascents to the Fornells Tower, one of the largest defense towers in Menorca and an emblematic point of the town.
The Half Tour
Registration open at a discounted price
The test opens registrations until the 28th with a promotional pricel hurry you're limited to just 350 enrolled in the middle distance
Triathletes of the stature of Raúl Amatriain, Diego Paredes, Joan Nada, Leonor Font, or paratriathletes Dani Molina or Alex Palomero, among others, have participated in this test.
More information: http://artiemhalfmenorca.com/
Menorca Island, Biosphere Reserve and one of the best tourist destinations
In 1993, UNESCO declared the island of Menorca a biosphere reserve. In fact, The New York Times newspaper has chosen Menorca as one of the main tourist destinations for 2020.
If you want to know more about what you can find on the island, visit http://www.menorca.es/