Triathlon News
The ProTour can be seen live
The next 12 and 13 of October, can be followed live through LaLigaSportsTV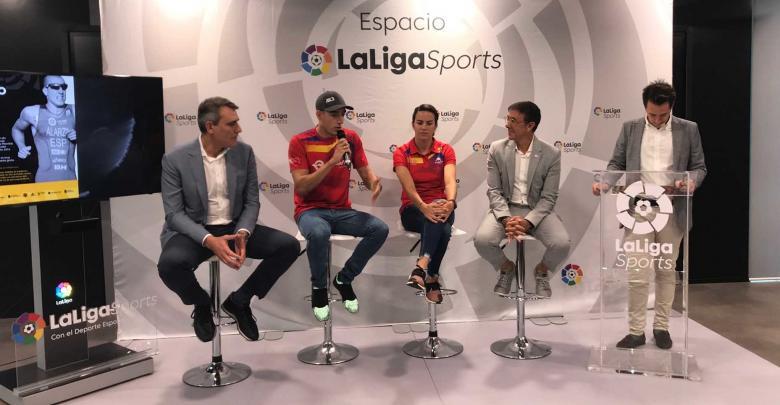 The moment of the most spectacular competition organized by the Spanish Triathlon Federation is approaching, which will bring together Pontevedra at highest number of triathlon stars National on the same date, with innovative and exciting career formats.
Yesterday the event was presented that was attended by Fernando Alarza, Anna Godoy y José Hidalgo, president FETRI.
81 athletes will participate in the Protour
Alarza y Godoy they will face other 79 athletes like Javier Gómez Noya, Mario Mola, Sara Pérez Sala, Carolina Routier;.
The champions of Spain away Sprint, Tamara Gómez and Alberto González; champion and champion of Olympic distance, titles to be won next December 28 in A Coruña; and other outstanding FETRI athletes classified in the Sprint nationals, held in Roquetas de Mar, and Olympic, to be played in A Coruña.
"This is a new competition format designed especially for the Triathlon fan"
During the press conference, José Hidalgo, President of the Spanish Triathlon Federation, has stated that "sIt is a new competition format designed primarily for the Triathlon fan but also for the general sports fan. It is a very spectacular format that will be very easy to follow.
So many things will happen in such a frantic way that once you sit in front of the television it will be very difficult to disengage, thanks to innovation, the possibility of seeing the best Spanish triathletes 40 competing in their country and live".
«Emerging sports like ours that are very spectacular television and that makes sports like ours grow»
For its part, triathlete Fernando Alarza has influenced the live broadcast of the tests thanking the bet "for emerging sports such as ours that are very spectacular television and that makes sports like ours grow and reach the fans what we do around the world and in this case, people can approach Pontevedra through the application.
Not only will the event approach people who can attend, but from anywhere you can follow it. A job to be grateful for from athletes who fight for our work to be seen worldwide".
In the words of triathlete Anna Godoy, "The format we are going to do has never been done. It will be a very spectacular format for all competitors. Being very short and explosive, anything can happen. It will be very motivating and spectacular for each of the triathletes".
José Montero, Deputy Director of Institutional Relations of LaLiga has affirmed that "it is necessary to innovate, and the Spanish Triathlon Federation has created a product that we think is brutal and to which we will contribute with all our knowledge and tools in audiovisual matters, in order to make the sport grow, as well as the audiences and that the fan gets hooked and can follow the tests ".
October 12 and 13 dates
ProTour FETRI will have the best representation of the Spanish women's and men's triathlon in competition for two days, and in two explosive competition formats focused on the spectator's enjoyment.
On Saturday, October 12, participants will contest a test consisting of two consecutive SuperSprint distance triathlons in which the last five in each transition will be eliminated.
On Sunday 13 of October, two semi-final series will be played in each category, female and male, with 10 eliminated in each series to form a final of 20 athletes also in each category.