South African Conrad Stoltz, World Triathlon Champion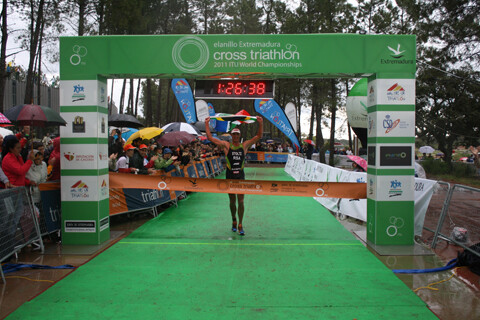 Conrad Stoltz with a time of 1:26:40, wanted today to reaffirm his dominance in tests of this hardness, and has been proclaimed World Champion of the 2011 Cross Triathlon in "El Anillo", Cáceres.
The American Set Wealing and the Swiss Olivier Marceau with a time of 1:27:36 and 1:29:43, have achieved the second and third position of the podium respectively.
Spectacular has been the scenario in which the competition has been developed, if "El Anillo" already presented us with an unbeatable place for the realization of this type of tests, the presence of continuous rain from the middle of the test, has led to an unbeatable circuit to really demonstrate the incredible physical condition and strength of these triathletes.
According to statements by Conrard Stoltz, "the rain has turned the event into a truly exciting spectacle, it has been precious to be able to win a test of this hardness and of great caliber at an international level, in the circumstances in which it was developed, I feel really very proud to have achieved first place on the podium "
Good representation of the Spanish, in the Top 10 we have had Eneko Llanos in 6th position and with a time of 1:31:29 and Victor del Corral in 9th position with a total time of 1:32:47. Eneko Llanos He did a good swimming part, which offered him great chances of achieving a podium, since his strong point was expected in the cycling segment. "I skidded with the bike and fell, at this moment they passed me, if it hadn't been for this inconvenience, I think I would have been able to qualify for the podium" commented Eneko. In addition, in his statements, he wanted to congratulate Jose Manuel Tovar, a triathlete from Extremadura, for his work in the development of the circuits, which have made this test a benchmark for the Cross Triathlon.
According to statements by Victor del Corral, who just two weeks ago was proclaimed Duathlon European Runner-up, "despite coming out in the last positions of the water and that the cycling sector was really hard and slippery due to the rain, I have managed to climb positions both by bike and in the race on foot, getting to the finish line in the top ten "
Also highlight the performance of the Spaniard and Extremadura, Francisco Fernández-Cortés, who in addition to competing in his land, was the one who designed this spectacular circuit that triathletes from all corners of the world have gathered and which has been a key point for The first Cros Triathlon World Championship marks a milestone in the history of this sport.
At the same time as the elite men's event, the SUB 23 category competed, in which two Spaniards were also top 10. Jorge Naranjo and Ricardo Hernández in 6th and 8th position respectively.
TOP 10 ELITE MALE
1 Stoltz Conrad RSA 01: 26: 40
2 Wealing Seth USA 01: 27: 36
3 Marceau Olivier SUI 01: 29: 42
4 Middaugh Josiah USA 01: 30: 26
5 Stannard Richard GBR 01: 31: 04
6 Plains Eneko ESP 01: 31: 28
7 Country Bruno BY 01: 32: 11
8 Rakita Branden USA 01: 32: 13
9 Del Corral Morales Victor Manuel ESP 01: 32: 46
10 Evans Craig USA 01: 34: 37