The always higher Alpe d'Huez Triathlon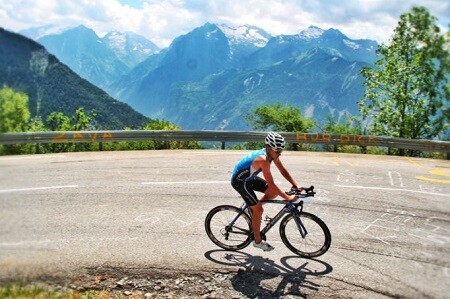 The ninth edition of the Alpe d'Huez triathlon will take place from the 27 to the 31 of July of 2014 and will have 3 distances
Long, Short and Duathlon.
El Alpe d'Huez Triathlon returns with a ninth edition more festive than ever. As usual, it will be held during the last week of July. Some Spanish athletes have already confirmed their participation.
At the end of July, the Alpe d'Huez station welcomes triathletes from all over the world for a week and becomes the epicenter of a unique event. In only 8 editions the Alpe d'Huez triathlon has become a special event in the international calendar. It's too much to present the mythical 21 curves and the 13km of the most famous ascent of the Tour de France.
But the special character of the event also resides in its festive atmosphere. Since they are several tests that take place during the week, most of the participants move with their companions and family to enjoy the alpine environment for a few days. In summer, both the activities and the hotel offer exceed the expectations of the triathletes.
Richard Calle: "I liked it so much this season that this year the plan is to return, compete and extend the stay to train in exceptional conditions throughout the region"


Richard Calle, reciente champion of Spain long distance. In 2014 it will probably repeat in the short distance format, accompanied by Marcel Zamora.
The 5 times winner of Nice Ironman is the most faithful of the Spanish triathletes in Alpe d'Huez, where he carries out an ideal preparation for the EmbrunMan, 2 or 3 weeks later. The third man announced is Albert Moreno: the young jewel of the Spanish long distance wants to get rid of her spine after having retired in 2013, before the T2, and put her warrior's mind to the test, tailor made for the Alpe d'Huez triathlon.

Further information: www.alpetriathlon.com