The Ferrol Triathlon is reinforced with Tamara Gómez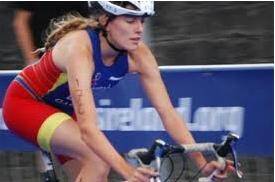 The Ferrol Triathlon Club increases its competitive level with the signing of Tamara Gómez, junior Spanish champion in 2010. The woman from Elche is one of the great promises of the Spanish triathlon as she is completing her third year of training at the Blume Residence in Madrid.
After a season in which she won the Spanish Under-23 Duathlon Championship, the Spanish University Championship and was seventh in the Holten European Cup, Tamara Gómez will face her first major challenge of 2012 in Segovia, in the Spanish Duathlon Championship.
In the collective section, the 20-year-old triathlete will join a team that stands out for its youth. Tamara Gómez is optimistic when stating that "it will be a challenge for us to compete with older people, we can get on well".
Along with her, Camila Alonso, Miriam Casillas, Melina Alonso, Eva Teijeiro, Estefanía Sande and Sara Velo will seek to improve results such as the silver medal in the Spanish Relay Championship or the bronze in the Copa del Rey.
From the club, they are working to close a last incorporation in order to have eight triathletes in the League of First Division Clubs, since it is the minimum required to participate.