Triathlon News
Eneko Llanos with the spotlight on the Half Triathlon Pamplona Iruña
The race takes place this weekend and Eneko will look for victory in her preparation for the Kona World Championship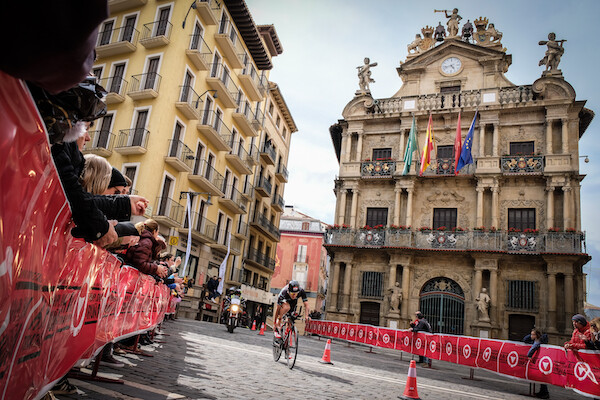 The 2019 edition of Half Triathlon Pamplona / Iruña bat again its record of participation exceeding the 1200 enrolled
A test that has become a fixed in the calendar of the national triathletes and that is consolidated as one of the most popular medium distance triathlons in Spain and at European level.
In this scenario, an edition full of illusion and improvement for many popular people wanting to complete the 1.900 meters of swimming in waters of the Swamp of Alloz, travel the 86 kilometers through Navarre and travel the 21 kilometers through the center of the capital of Navarre.
To more than 1.200 popular sports joins a spectacular poster of elite triathletes coNo desire to dress the traditional txapela that crowned the winners. In the masculine category, the presence of the current champion stands out, Cristobal Dios; the veteran Eneko Llanos, in full preparation for his assault on the Ironman World Championship or the Catalan Cesc Godoy.
Other great favorites to keep in mind in this male category are: Joan Ruvireta, Jordi Garcia, Egoitz Zalakain, Xabier Torrades, Guillem Rojas, Albert Moreno or Pello Osoro.
In the corresponding to the competition of the females, triathletes of the size of Helene Alberdi, second classified in the 2018 edition, Ruth Brito, winner in Pamplona in the year 2017 or Anna Noguera, winner in the Long Distance World Championship in Pontevedra with her bronze medal will be the favorite to win the final victory. They will also fight for the places of honor Camille Deligny, Ana Filipa Santos, Alba Reguillo, Mireia Arrillaga and Ana Rovira.
In short, a test that attracts and very popular athletes and is a major challenge in terms of elite athletes. This combination together with some spectacular tours of Pamplona and its surroundings, the warmth of the fans from the north and a contrasted organization are the cocktail that will give us this Saturday one of the most anticipated tests of the season.
The competition can be followed live through the following video:
You may also be interested in this