Triathlon News
Eneko Llanos fourth and Ruth Brito wins in the Vertical Total Famara, 5 km with 600 meters of positive slope
Ruth Brito has won the victory in the women's event and Eneko is preparing the IM Kona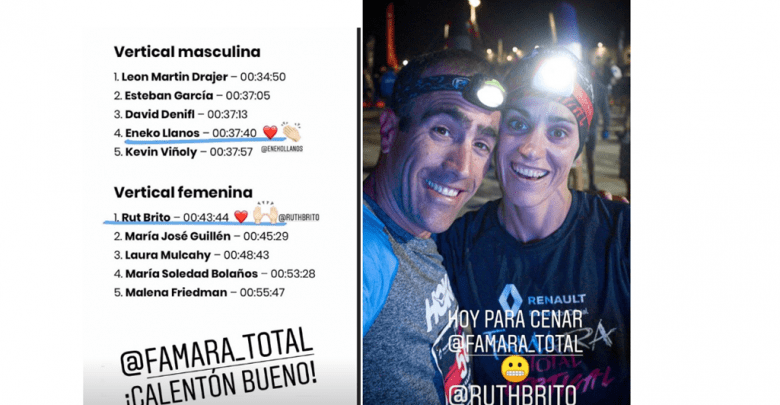 A spectacular full moon did not want to miss his appointment with the Renault Vertical Famara Total, illuminating the passage of the corridors along the traditional path of the caleteros. The town of Caleta de Famara became the epicenter of the trail on Wednesday night, with the celebration of a unique sporting event and in a unique natural setting.
León Martín Drajer y Ruth Brito They fulfilled the predictions, taking the victory at the finish line and adding their second victory in this test organized by the Department of Sports of the City of Teguise.
The test had a 5 km route with more than 600 meters of accumulated elevation gain
Leon Martín Drajer, winner of the first edition and second last year despite suffering a sprained ankle, fulfilled the predictions and was the fastest to complete the route of the Renault Vertical Famara Total.
The winner used a time of 34 minutes and 50 seconds. He was ahead in two minutes and 15 seconds to Esteban García (37:05) who was classified in the second position. And the podium was completed with the third place of the Austrian David Denifl (37:13).
Eneko Llanos, who participated for the first time in this test, was fourth, arriving with a time of 37:40 more than 3 minutes from the winner.
In social networks Eneko commented:
"Good warmth last night, my first vertical @famara_total 5,6K + 565m. 4th final place more than 3 ′ from the @leondrajer machine.
The twins on fire, the lumbar protesting, a series on a very long slope, a good workout and a fun time. To repeat.
#roadtokona #specificPalani ?? "
Rut Brito gave no option and got the victory
In the female category, the great favorite did not give options to the rest of the participants. Lanzarote's Rut Brito, currently based in Victoria - Gasteiz, confirmed the triumph achieved in the last edition and crossed the finish line as winner with a time of 43 minutes and 44 seconds.
The women's podium was completed with the second place of the Gran Canaria María José Guillén (45:29) and Laura Jane Mulcahy (48:43) climbed to the third place