Eneko Llanos will play the ICAN Valladolid 2012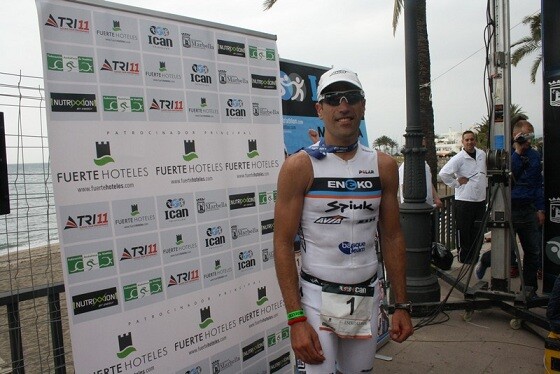 One of the best triathletes on the national scene has confirmed his participation in ICAN Valladolid 2012. The Vitorian wants to finalize his preparation for the Long Distance World Cup, which will be held precisely in Vitoria on July 29, and incidentally thank those responsible of this competition the treatment received in previous ICAN tests.
Eneko Llanos He is, for many, the best Spanish long-distance triathlete. His extensive track record includes his presence in two Olympic Games, several international titles or having already played several editions of the prestigious Hawaii Ironman. In addition, last year he won the ICAN Mallorca, which he already won in 2010, and the ICAN Marbella 2011. He could not participate in this year's Marbella edition but now he will have the opportunity to retaliate in the new adventure of Valladolid, the next July 7th.
Eneko Llanos Burguera was born in Vitoria-Gasteiz on November 30, 1976. Since he was little he practiced many and varied sports. He played hand ball and swimming. He also came to practice judo for a few years, while on weekends he continued going to the mountains to walk, thanks to the family mountaineering tradition. He stayed in swimming until he was thirteen and seeing that it was not his thing, he left it and continued playing handball. During those years he also practiced sport climbing a lot and with his savings he managed to buy some of the first mountain bikes that were in Vitoria.
His first contact with triathlon was thanks to his brother Héctor, who started practicing this sport in 1991. After going to see him and encourage him in a few triathlons, finally at the end of 1992, Eneko participated in his first duathlon. Already in the year 93 he competed on the Basque circuit in both duathlon and triathlon.
His first important results came in 1995. In the junior category he managed to win the Spanish Triathlon Championship and as an elite he already participated in a World Cup (10th place in Gerardmer). From that year on he devoted himself professionally to triathlon, participating in European and World Cups, European and World Olympic distance Championships. Several Spanish Championships mark his record of those years, in addition to good international results.
His ultimate goal was to qualify for the Sydney 2000 Games. So, thanks to some 'Top ten' in World Cups and good consistency, he got the position in the ranking that gave him access to the desired Olympic place. He was not very satisfied with 23rd place in Sydney, but just being there was an unforgettable experience.
After Sydney a new Olympic cycle began. From the beginning Eneko had trained with Pedro Garrido, but in 2002 he chose to change of scene and try something new and different to regain his somewhat lost motivation. He started training with his current coach, Iñigo Mújica, and things between the two worked very well from the beginning. In the following years Eneko would achieve his best results in the World Cup with several 'Top ten', mainly due to the improvement in running.
The year 2003 was especially good. The beginning of the season was dedicated to preparing for the Long Distance World Championship that was held in Ibiza, and which he managed to win even though it was his first long triathlon. That same year he would win the National Olympic distance and the Xterra World Cup. In 2004 he obtained good results at the beginning of the year that placed him in a good place to obtain the ticket for the Athens Olympics. But the big day came in Valencia, where he managed to be runner-up in Europe and secure his passage to Athens. In Athens he again enjoyed the Olympic atmosphere a lot, but like in Sydney he was not satisfied with his career and with the 20th place.
Atenas marked a new point in the sports career of Eneko Llanos. From here he devoted himself fully to what was originally his motivation in the world of triathlon: the Ironman.
His beginnings in Ironman were not very promising. Between May and August 2005 he participated in three and failed to finish any, but what he learned led him to the Western Australia Ironman in the fourth, he managed to finish second and qualify for Hawaii 2006. The beginning of that second year was almost more of the same. His first two Ironmans (Lanzarote and Roth) ended in retreat, but in the next, Ironman of Austria, he was already better and was third after his brother Héctor.
In October 2006, in his first appearance in Hawaii, he obtained 5th place. It seemed that he had already taken the measure of the Ironman, so in 2007 everything went well from the beginning and in May he won the Ironman of Lanzarote. In July he got second place at Roth, and in October at the big event in Hawaii, 7th place. 2008 was a very good year for Eneko: 2nd in Wildflower, Ironman European Champion in Frankfurt and Ironman World Runner-up in Hawaii.
In 2009 and 2010 he has become, by his own merits, one of the top triathletes on the international scene. Two years ago he won the prestigious Abu Dhabi test, where in 2012 he was third, while in Melbourne (Australia) this year he had to settle for fourth place. Results that have already assured him his presence, one more year, at the Ironman in Kona (Hawaii). He also has in his record with the triumph in the prestigious test in Arizona, where he also fell below eight hours.
He continues to keep his enthusiasm for his sport very much alive, so without losing sight of his great annual goal, the Ironman World Championship in Hawaii, he can be seen competing in any modality and distance: white triathlon, cross triathlon, Olympic distance , Xterra, double Olympic ... since each competition is posed as a personal challenge.