Interview with Javier Gómez Noya "In London I will go for gold"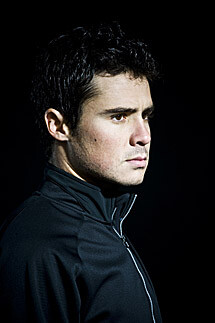 Here we leave you an interview conducted by the newspaper el mundo.
Francisco Javier Gómez Noya (Basel, 1983) is the most successful Spanish triathlete of all time. The professional record of the athlete from Ferrol, who has won practically everything at an international level, has, until now, a lack: an Olympic medal. Gomez Noya, double champion of Europe and the World, has closed this pre-Olympic season by imposing himself with authority in an important test of the professional circuit, corresponding to the Life Time Fitness Triathlon Series, held this month in Dallas (United States). A triumph that has allowed the Galician triathlete to finish the course in the third place in the world ranking.
After a somewhat irregular season in terms of results, Gómez Noya will begin his preparation next November with his eyes set on the London Olympic event, the perfect setting to try to win a metal and write, incidentally , a new golden page in the living history of this sport.
He has put an end to the season reaping an important victory in Dallas. As events have unfolded over the last year, would you say that this victory is more moral than sporting?
There is no doubt that everything that wins contributes to reinforcing the mental aspect of an athlete. When you have been in a sport like this for many years, performing at the highest level at all times is very difficult. Putting things in perspective, winning a race in a different format than what I'm used to is the best possible way to end a season.

A good part of the preparation for this campaign has been carried out with his head set on the London Olympic Games next summer. Is he facing the biggest sporting challenge of her career?

Definitely. For every athlete, the Olympic Games represent the international competition with the greatest impact and I have not yet been able to win an Olympic event. The fact that they are held every four years attests to the difficulty involved in winning a medal, because it is a one day test and everything has to go perfectly.

What grade would you put on your performance throughout this last season?

About a maximum of ten, I'd give myself an eight. There have been moments that I have performed at a high level. I would have liked to finish the year first but it couldn't be and now I can only focus on continuing to improve ahead of the Olympic Games.

Have you had good feelings this pre-Olympic year?

Sometimes the sensations are not exactly related to the results. It is true that I had a small bump in the middle of the year due to some stomach problems, but I have managed to recover and I have felt good in the final stretch of the season.

He was removed from the Athens event by the medical staff of the Higher Sports Council and in his first participation in the Olympic Games, in Beijing, he caressed the bronze medal. Would you consider anything other than winning a medal in London a failure?

It all depends on how events unfold throughout the event. It would be a disappointment not to be able to give 100%, not giving my best, that would make me angry. I am confident that I will be in the fight with the best, but in a single day test the difference between doing first and doing fifth is very small. The only thing I know for sure is that in London I will go for the gold.

Gómez Noya finished third in the Madrid test of the 2011 World Cup. ADGHave things changed a lot in the professional triathlon circuit since its inception back in 1998?

Triathlon has changed at all levels. Now we have to go much faster because there are more and more young people who are hitting hard. There has been a general 'boom' in recent years, from the Olympic cycle in Beijing to this one in London, things have changed a lot and one has to be more competitive every day and seek improvement.

In the last important event on the international calendar held in Spain, in the Triathlon European Championship, could not fight for the podium places despite competing at home. He criticized the unsportsmanlike behavior of the English team at the time. Are you afraid that something like what happened in Pontevedra could happen again in London?

What happened was an isolated event that cannot happen again. In a triathlon competition there will always be some blow and assuming it is part of this sport, but what happened in the Pontevedra test is not part of this sport. The action was sanctioned because it was unsportsmanlike and I only hope that something like this never happens again, neither to me, nor to any other athlete. No triathlete, no team, or any federation can carry out a maneuver of that style to fight for a victory.

The Brownlee brothers (Alistair and Jonathan) are also emerging as serious contenders for the Olympic scepter. Do you think they have an advantage because they compete in their country?

The Brownlee brothers will be very motivated, but so am I and other athletes should not be ruled out either. They have been very strong in the last year, but They are young and have not yet competed with guarantees in an Olympic Games. Experience when preparing a single day race is very important.

He has won practically everything in the world of triathlon, but he has also had to face the withdrawal of his federation license on more than one occasion. What would you say now to those who doubted at the time about their full physical abilities to compete professionally?

The withdrawal of the license was a hard drink, they were very difficult times. We had to fight a lot to get the case opened, but that has already happened and it was something that helped me mature and value this sport more. The ones who have to give their opinion are the doctors, but I no longer expect anyone to give me explanations nor do I seek anyone's excuses.

Do you think that Galicia will have, in a few years, new professional triathletes capable of picking up the baton from such important figures in this sport as Iván Raña or yourself?

In Galicia a spectacular work is being carried out that is already bearing fruit. The results that the Galician triathletes who compete in the Junior and Sub-23 category are getting, or the podium achieved by Anton Ruanova in the Larache Triathlon, in Morocco, are good examples of this. That young people see us as a reference can also be positive, but the most important thing is the work that is being carried out because years ago cases as wonderful as that of Iván (Raña) were isolated phenomena.

What advice would you give to all those young people who train daily to get to the place you have reached?

Triathlon is an endurance sport in every way and you have to enjoy it along the way. When you are young, you must assimilate well the techniques and bases of this sport, because get a higher yield has to be thing of the future.

Do you already know how you will plan the next season?

Right now we are in the middle of planning the season, planning that is not yet complete but will be focused on preparing for the Olympic Games. I will start competing around the month of April and I will probably participate in fewer tests, because the objective is to arrive in the best possible shape in London.

Source: elmundo.es