This weekend starts the World Series in Sydney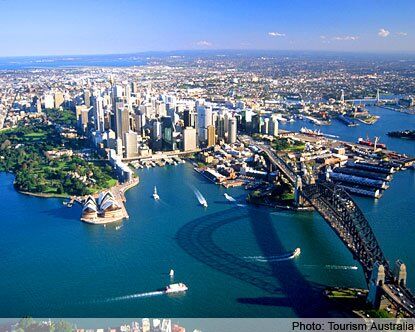 Highlights the absence of Javier Gómez Noya and the Brownlee brothers
For the third consecutive year, the Australian city of Sydney will host the inaugural event of the ITU Triathlon World Series. A year in which the first dates will be marked by the struggle for the Olympic classification.
Last year's edition offered one of the most spectacular competitions, with Javier Gómez Noya as the main character in the men's event. The Galician managed to overcome a fall in the cyclist route and achieved victory after a memorable comeback.
Despite not being able to count on some of the great figures of the current scene, the Australian event promises to be exciting as many triathletes continue to seek their Olympic qualification. Among them will be in the female elite category Zuriñe Rodríguez accompanied by Ainhoa ​​Murua. While in male elite category we will have the participation of Josemi Pérez and Iván Raña.
The absences of Javier Gómez Noya and the Brownlee brothers open a whole range of options in the male elite event. Among the favorites to win are Russian Alexander Bruykhankov, French David Hauss and Laurent Vidal, Canadian Simon Whitfield, Australians Brad Kahlefeldt and Brendan Sexton, New Zealander Bevan Docherty, British William Clarke and German Steffen Justus.
New Zealand's Andrea Hewitt, Sweden's Lisa Norden, Chile's Barbara Riveros Díaz, Switzerland's Nicola Spirig and locals Emma Moffatt, Emma Jackson, Emma Snowsill and Erin Densham are favorites. Along with them will be the current champion of the 2011 Series, the British Helen Jenkins. All of them will fight to climb to the top of the podium.
The test will start with 1.5 km of swimming around the Bay of Farm Cove. Next, 40 km of cycling will be made, crossing some of the most emblematic streets of the Australian city. In order to finish, the triathletes will cross 10 km of race on foot with the arrival to goal located in College Street.
To the meeting in Sydney will be added in the coming months San Diego (10-12 May); Madrid (26-27 of May); Kitzbühel (23-24 June); Hamburg (21-22 of July); Stockholm (25-26 of August), replacing the previous headquarters of Lausanne, and Yokohama (29-30 of September). While the Grand Final will be played in Auckland, between the 20 and 21 in October. A total of eight tests that will bring the maximum emotion to a season that promises to be unrepeatable.
Test start time - Spain:
Female Elite: Friday 23: 30
Men's Elite: Saturday 02: 25
Departure List: http://sydney.triathlon.org/event_information/start_lists/
FETRI