More than 100 triathletes participated in the event, thus becoming the test with the greatest participation of the province
Last September 27 took place on I Cross Infinitri Triathlon and the place chosen was the town of Montanejos, in the interior of Castellón. The test was held in sprint distance, with 750 meters of swimming in the Arenoso reservoir, 14 kilometers of mountain biking through the Maimona ravine and to end 5 kilometers of foot race parallel to the natural thermal pools of the Mijares river
The technical circuit and at the same time demanding was the pleasure of the participants who were looking for a test where the contact with nature and spectacular landscapes stood out.
More than 100 triathletes participated in the event, thus becoming the event with the highest participation in the province, and the second in the entire Valencian Community in this modality that has more and more followers and that a hole is being made within the triathlon. The test welcomed a significant number of participants from outside the province (55%), mainly from Valencia and Teruel, and most of the participants chose to spend the night in Montanejos, so the accommodation places were full.
The event was made possible thanks to the main sponsorship of the Diputación de Castellón under the technical supervision of the Triathlon Federation of the Valencian Community. Given the success of the event, in 2016 the organization is looking for a new venue that will host the 2016 edition of the Triathlon Cross Infinitri.
The IV MD Peñíscola Triathlon about to reach 300 registered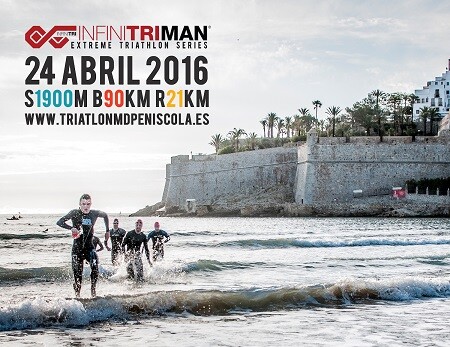 The "flagship" of the events organized by Infinitri Sports within the circuit InfinitriMan Triathlon Series, is the spectacular medium distance triathlon that will take place on April 24, 2016 in the tourist town of Peñíscola.
This test has as a differentiating reference a swimming segment that surrounds the castle of the town that sits on an islet, where these days the shooting of the new season of "Game of Thrones", Which illustrates the epic and enigmatic of a place as full of legends as the castle of Pope Luna. The swimming segment (2000 meters) is followed by a fast cycling circuit inside the region (89.5km) and a spectacular circuit on foot with the virgin coves of the Serra D'Irta natural park as a company.
The inscriptions are open and soon the 300 registered will be reached after which the price segment will be changed. Right now you can register for the test for € 110 with the accommodation bonus.
More information about the test and the inscriptions: http://triatlonmdpeniscola.es/