Triathlon News
Fernando Alarza Win the Premium European Cup triathlon in Banyoles, Vicente Hernández third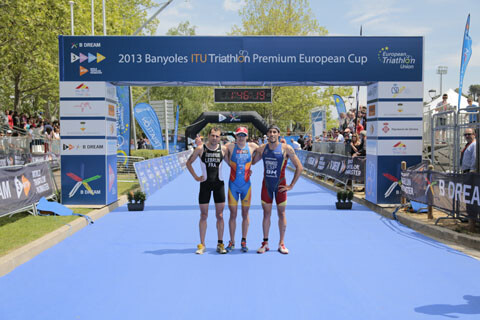 In the men's category of the Premium European Cup of Banyoles, we returned to live strong emotions with the victory of an exceptional Fernando Alarza, and the third place of Vicente Hernández. Together with them, the rest of Spaniards offered a formidable performance, in which the sixth place of Uxio Abuín and the eighth of Ricardo Hernández. Both triathletes stayed in the leading group for a good part of the contest.
The former Olympic Senator, Marco Rivera demonstrated his great skill in the water, leaving in first position after completing a splendid swimming segment by the Estany de Banyoles. Behind him, the Frenchman Pierre Le Corre, the Portuguese Joao Serrano and an Alarza, a few seconds from Rivera.
During the cycling tour a group of about fifteen triathletes, formed among others by the Spaniards Fernando Alarza, Uxio Abuín, Ricardo Hernández, Vicente Hernández, led the competition, behind them and more than 40 seconds later the persecuting squad was located. After completing the corresponding 40 km, the platoon arrived attached to the T2.
In a spectacular segment of the running race, five triathletes escaped from the squad. At this start of the tour we could enjoy seeing four Spaniards leading the sector. Thus, Fernando Alarza, Vicente Hernández, Uxio Abuín, Ricardo Hernández and the Frenchman Aurelien Lebrun set a very strong pace and distanced themselves from the rest.
Entering the second of the three laps on foot, the Talaverano Alarza launched an attack and then headed alone towards the finish line. Behind, Vicente Hernández occupied the second position, until the Frenchman Lebrun hunted him, leaving him behind to enter second position. While the Santacrucero entered third.
For their part, Cesc Godoy and Iñaki Baldellou performed a great performance, entering the Top-20. Behind them, Marco Rivera entered 41st place; Diego Paz occupied the 43rd place, Javier Senent, 52º and David Castro, 58º. While Emilio Aguayo and Oscar Vicente had to leave the cycling segment in the middle. While Oscar Vicente did the same in the course of the foot race.
A gold brooch for an exceptional weekend for the Spanish triathlon.
Results:
You may also be interested in this