FETRI launches its first Virtual Mixed Relay
There will be two weekends of virtual competitions, May 2 and 3 and May 9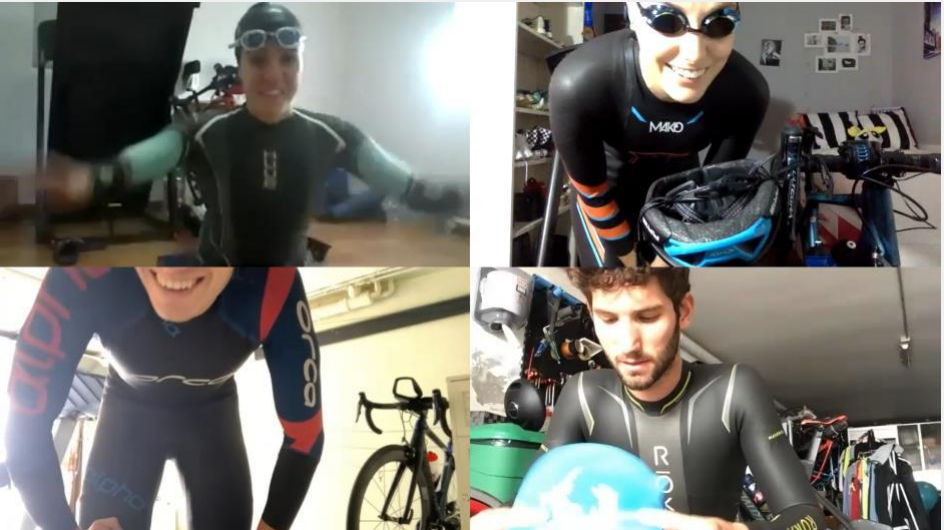 The Spanish Triathlon Federation, at this time of confinement due to the COVID-19 pandemic, has presented a friendly character competition that allows open a door to future formats and that it can be developed in the indoor modality.
The mixed relay, will have the participation of 40 Elite clubs And final test also of Paratriathlon, and all of them forming mixed teams of two components, a woman and a man.
Will be two virtual competition weekends, May 2 and 3 and May 9, focused on transitions and with a playful purpose.
How It Works
To participate in the test, which will be done through the platform Zoom, the participants will have to have a set of gums for swimming, a roller, the pit box.
Each athlete will appear at the competition with the wetsuit, hat and glasses.
What does each triathlete have to do?
Swimming: 2 minutes with swimming gums (freestyle).
Transition 1: Take off your wetsuit, hat and goggles, and leave everything inside the box. Cycling shoes can be placed on the pedals, if desired.
Cycling: After transition 1, you must put on the helmet, get on the bike and do a 5 minute roller, with the cycling shoes fastened.
Transition 2: Take off your helmet, leave it inside the box and put on your running shoes. Race: 1 minute of skipping.
Meta: Under the officer's instructions, with the countdown, touch the screen to start the relay.
Material needed for the competition:
Club Uniform (ParaTriathletes, Spanish National Team uniform)
Neoprene Swimming Cap
Swimming goggles
Helmet Cycling and running shoes
Roller
Box Computer or Tablet with camera showing at all times the rubbers, the roller and the box.
All the material must be taught before starting the competition.
The competition format will be the 1 + 1 Mixed Relay; where each team will be made up of 2 athletes (1 girl and 1 boy). The order will be: A - Girl B - Boy
The rules of the test can be found in the following link
How to participate?
Registrations will be made through the website of the FETRI. In case the places are not covered at the time of the closing of the inscriptions, next Thursday April 30 at 14:00 p.m.
It is not a competition as such, and the spirit of Fair Play must reign.
You can follow it live through the Facebook Live of the FETRI.
Rating system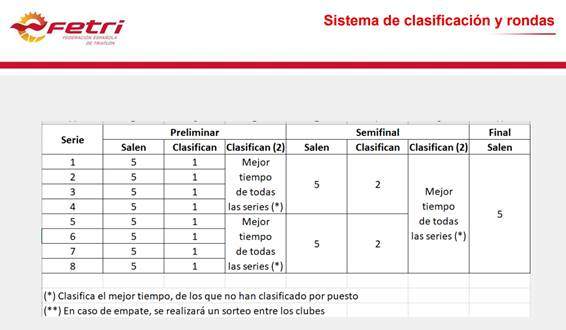 DATES AND TIMES - INDOOR FETRI MIXED RELAY
Saturday May 2
- 11:00 PRELIMINARY ELITE Series 1, 2, 3, 4
Sunday May 3
- 11:00 PRELIMINARY ELITE Series 5, 6, 7, 8
Saturday May 9
- 11:00 ELITE SEMIFINALS
- 12:30 FINAL PARATRIATLÓN
- 13:30 ELITE FINAL
The invited teams have been the first 50 in the National Ranking of Cubes, with 40 at the start and the rest on the waiting list once the registrations are finished.
Further information: https://triatlon.org/evento/?alias=2020-relevos-indoor