FetriStats, new portal of the FETRI of statistics of competitions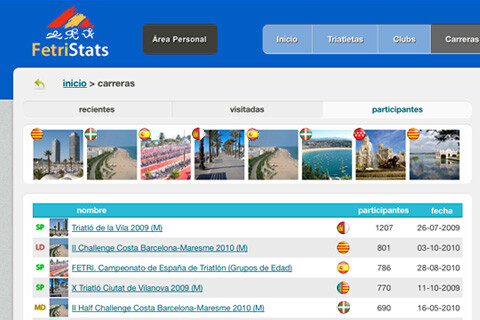 The Spanish Federation of Trialtón has published today its new competition statistics portal FetriStats
All the official Fetri tests will be available on the portal a few minutes after the end of the race, and registered users (free registration) they will immediately receive their results via email.
The new Fetri results portal (FetriStats) allows triathletes and clubs obtain extensive information about your sports activity. On the portal, all athletes and clubs of the Spanish Federation will have their personal file where their activity and all the information that the interested parties wish to provide will be reflected (possibility to link to Facebook pages, Twitter and personal blogs).
Among the possibilities of the results portal, it is worth highlighting the performance analysis of a triathlete in a competition, the visualization of the cycling squads on their arrival in the pitsplatforms, list of races with the participation of the club.
Thanks to the agreement between Fetri and TriStats, the results portal will be periodically updated with new functionalities to allow a better experience for all web users (calculation of running rhythms, loading of multiple images in the personal file, incorporation of new information of a club, etc).
Coinciding with the celebration of the Spanish Triathlon Championships in Vigo this weekend the president of the Spanish Triathlon Federation (Mr. José Hidalgo) will make the official presentation of the results portal (FetriStats) accompanied by the creators of TriStats (Ivo Clotet y Ricard Perez).
With the implementation of FetriStats, the Spanish Triathlon Federation stands out as the first federation in the world to use a results analysis system of the competitions held.